R. Lee Ermey: 'Saving Private K-9' Puts The Beef In Reality Genre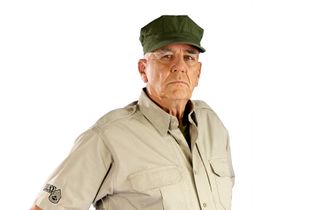 Veteran actor and retired U.S. Marine Corps Staff Sergeant R. Lee Ermey is the host of The Sportsman Channel's new series Saving Private K-9, which highlights the lives of military and law enforcement service dogs and their handlers. Ermey, who earned a Golden Globe nomination for his role in the 1987 film Full Metal Jacket and, more recently, hosted History's military weapons-themed series Mail Call, recently spoke to me about his new series as well as his thoughts on cable's reality programming genre.
An edited version of the interview appears below.
MCN: What was your objective in developing Saving Private K-9?
R. Lee Ermey: My objective is to entertain people and wake them up to the simple fact that these dogs dedicated their lives to this country and that they are working dogs that save lives. We have some real tender moments where we reunite a handler and a dog that were both injured in combat. Five years later he's looking for the dog that saved his life, and when they reunite it's all I can do to keep from tearing up. There are some very emotional moments in the series and I want to bring that to American households.
MCN: What does Sportsman Channel bring to the table?
RLE: The Sportsman Channel came up with the concept and we've put together a dozen shows [for the series], and I'm not disappointed about how The Sportsman Channel has handled the show. They know what they have on their hands and they really made it happen -- they've gone the extra mile and they're doing it with a lot of class.
MCN: Why hasn't this story been told in such depth before?
RLE: We've seen documentaries about dogs and their handlers in combat and police work especially, but no one has gone the extra mile in following these dogs. It's a very emotional television show and has some very touching personal moments between the dogs and their handlers.
MCN: You've done a couple of non-fiction cable shows, so what's your opinion of the reality programming genre in general?
RLE: To tell you the truth, it's gotten to the point where I can't hardly stand to watch Tv because of the crap that's on there. Everyone wants to do these Housewives reality shows or putting young people up in a house to live together over a period of time – to me that's not real entertaining. I'm glad to see the Sportsman Channel has come around and put some content on television that has some beef to it.
MCN: Is there any policy that you would like to see implemented to better safeguard the lives of military dogs?
RLE: I believe 100% in the military and I think it's handing the situation quite nicely. If there was anything I could change it would probably be the retirement of these warrior dogs. They serve this country the same as anybody in uniform does, and after they hit a certain age they need to be able to retire and live out the rest of their lives living a dog's life and being treated properly. That doesn't seem to be happening and I would like to see that changed.
The smarter way to stay on top of the multichannel video marketplace. Sign up below.
Thank you for signing up to Multichannel News. You will receive a verification email shortly.
There was a problem. Please refresh the page and try again.