Pay TV's 'New Normal': 1 Million Cord-Cutters a Year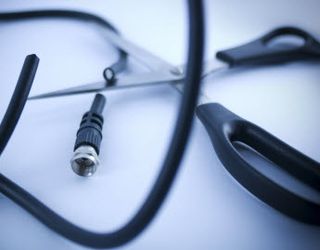 In what could be the "new normal," about 1.1 million pay TV customers cut the cord in 2015, a four-fold increase over 2014, when the industry lost about 283,000 subscribers, according to Canadian research company Convergence Consulting.
In its annual pay TV report – The Battle for the North American Couch Potato – Convergence estimated the number of cord cutters will remain about 1.1 million in 2016 and beyond. Fueling the debate, Convergence president Brahm Eiley said in an interview last week, is the proliferation of over-the-top service providers and the entrance of distributors like Verizon and AT&T into the OTT arena, which had until a few years ago been primarily a content play.
"People that were part of linear TV packages are now part of non-linear packages," Eiley said. "It's a free-for-all."
The popularity of OTT is evident in the growth rates of the services. While OTT revenue is still minuscule compared to pay TV revenue, OTT providers are growing at 10 times the pace of operators. Pay TV revenue grew 3% in 2015 to $105 billon, Convergence said, and should rise another 2% to $107 billion in 2016. OTT services generated $5.1 billion in revenue in 2015, up 29%, and are expected to grow 30% to $6.7 billion this year.
Eiley added that while the market has potential for more fragmentation, linear TV still has significant runway left.
Content could prove to be the big differentiator, and traditional TV companies are expected to keep up the spending pace. Convergence said traditional networks spent about $53.1 billion on content last year (up 8%), while new players like Amazon, Apple and Netflix spent an estimated $7.1 billion in 2015, up 27% over the prior year. Increased spending is expected to continue for both sectors, with traditional networks shelling out $57.2 billion for programming this year (up 7.7%), while non-linear providers will spend $8.7 billion, up 22.5%.
Thank you for signing up to Multichannel News. You will receive a verification email shortly.
There was a problem. Please refresh the page and try again.