Patrick Drahi: Europe's John Malone or the Dutch Paul Allen?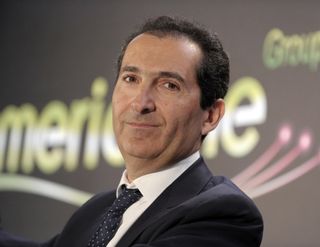 Patrick Drahi's Altice NV has made another big splash in U.S. cable, agreeing to pay $17.7 billion for Cablevision Systems, a deal that will vault the European telco (when coupled with its $9.1 billion acquisition of Suddenlink Communication) in to the No.4 spot among cable operators in the country. The fact that Drahi has done it so fast – they announced the Suddenlink deal in May – and his whirlwind string of European telco deals over the past few years have drawn obvious comparison to cable legend John Malone. Drahi himself has made the comparison and Malone has expressed admiration for the Altice chairman (mainly in Drahi's ability to do deals almost exclusively with stock).
There is no doubt that Drahi, a French-Morroccan who lives in Switzerland but runs a company based in the Netherlands, has been successful – he's No. 60 on the Forbes list of richest humans. But with Cablevision the telecom executive has strayed a bit from the template, agreeing to pay about $10 billion in cash for Cablevision and assume another $7.7 billion in debt. The fact that Cablevision insisted on a cash payout seems to say that the Dolan family was not too optimistic that Altice's stock – more than double its price of a year ago, solely on its deal acumen – may not be able to sustain its current rate. Typically cable operators push for deals that have a heavy stock component to avoid the tax hit.
Altice has been more than willing to pay top dollar for cable assets – it paid more than 9 times forward looking cash flow for Suddenlink (minus synergies) and the Cablevision deal, depending on how you slice it, is valued at about 9.5 times cash flow, more than a full turn higher than past deals in the 7 times to 8 times range.
While Drahi himself has said he has modeled his business life after Malone, to me at least, his first two forays into the U.S. cable business look a lot like another former cable billionaire, Microsoft co-founder Paul Allen. Think about it. Allen burst on the scene in the late 1990s, flush with cash from his Microsoft stock and hell-bent on making his vision of a "Wired World" a reality.
The cable market was a bit like it is today – in turmoil, with companies scrambling to acquire others in a quest to better cluster their operations. Allen came in during the peak of consolidation – around the time Tele-Communications Inc. was acquired by AT&T – buying Marcus Cable for $2.8 billion and Charter Communications for $4.5 billion in 1998, later paying huge prices for cable properties all over the map. Some deals were good, some were bad, but most of them were for too much money. At one point, Charter was using almost all of its cash flow just to service its debt, a reality that eventually led it into bankruptcy in 2009. Charter emerged from that hole about a year later, Allen left in 2011 and with new management and a fresh balance sheet is one of the most highly respected cable operators in the country and the leader of the latest consolidation wave.
I don't mean to bash Allen. He's a very smart guy and his Wired World vision wasn't off base, just maybe a little ahead of its time. But the cable graveyard is littered with smart guys with good intentions – AT&T's Mike Armstrong and AOL's Steve Case are just a few. The hard fact is that cable isn't just the phone business (like Armstrong learned) and it isn't just the dial-up Internet business and Drahi may soon find out that it isn't just the wireless business either. Deciding to take the knife to a business that is at another crossroads, with competition coming from over-the-top as well as from traditional sources, requires that the surgeon is very careful with his cuts. Slashing headcount, customer service, repairs, maintenance and marketing indiscriminately could ultimately result in creating a bargain buy for a larger company down the road. Here's hoping that Drahi and the others that probably will follow him keep that in mind.
The smarter way to stay on top of the multichannel video marketplace. Sign up below.
Thank you for signing up to Multichannel News. You will receive a verification email shortly.
There was a problem. Please refresh the page and try again.