The News Keeps Making News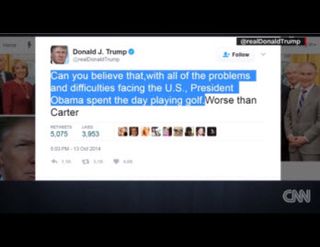 One of the more fascinating ratings trends developing thus far in 2017 has been the strong, post-presidential election performance of cable news networks.

Not surprisingly, ratings for Fox News Channel, CNN, CNBC and MSNBC trended up in 2016 during a year that featured a particularly intense and heavy news-driven presidential campaign. Adult viewers spent more than 73.5 billion minutes consuming news in an average week last year, an 18% increase from the prior year, according to Nielsen's Total Audience Report for fourth quarter 2016.

Most of the increases were generated by the national cable news networks. Viewers consumed 27.1 billion minutes of news from those channels during the year, compared to 18.8 billion in 2015, according to the report. By comparison, national broadcast TV news drew 14.3 billion minutes of news consumption in 2016, while local broadcast TV news generated 15.1 billion minutes.

The increases were solid across all age demos, including the elusive millennial audience. In fact, millennial viewers spent more time on a weekly basis in 2016 getting their news from national cable news channels than from any other source, with the exception of local radio, according to Nielsen. Ethnic groups also preferred to get their news fix from national cable news outlets compared to any other source, according to the report.

Overall, viewers spent more than six hours per week consuming cable news in 2016, up from more than four hours a week during the year of the 2012 campaign, according to Nielsen.

Once the election was over, most industry observers believed that cable news network viewership would return to traditional levels. Yet the strength of cable news network ratings has continued after the election and into President Donald Trump's first 100 days.

Viewer fixation on cable news spilled into the first month of 2017 through Trump's inauguration and the official transfer of power. Adult viewers averaged more than two hours per week watching national cable news in January, which was 20% higher than in January 2016, according to Nielsen.

Well into the first quarter of 2017, the appeal of cable news has yet to abate. Fox News was easily the most watched cable network in primetime and on a total day basis during the quarter, with MSNBC and CNN finishing among the top 15 most watched networks in primetime during the period, as the health-care law battle, investigations over alleged Trump administration Russian ties and wiretapping charges dominated coverage.

It's arguable whether the cable news genre can continue its torrid ratings pace for the rest of 2017. But if the first quarter is any indication, it's certainly possible that cable news networks could remarkably match or surpass their 2016 election ratings tallies.

PHOTO:Reports on the Trump administration's first 100 days -- such as CNN's coverage of the $21.6 million the president's golf trips to his Mara Lago Resort have cost taxpayers in the first 80 days vs. the $97 million President Obama's travel cost over his two terms -- are keeping cable news network ratings up.
The smarter way to stay on top of the multichannel video marketplace. Sign up below.
Thank you for signing up to Multichannel News. You will receive a verification email shortly.
There was a problem. Please refresh the page and try again.