Netflix/Pay TV Crossover Remains Stable: Study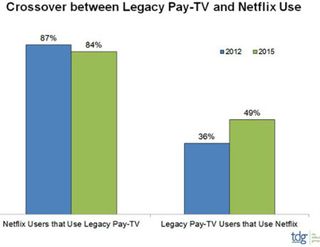 Netflix is often viewed as a video tool tailored for cord-cutters, but new data from The Diffusion Group shows that the use of traditional pay TV services among Netflix subscribers has remained relatively stable.
TDG said legacy pay TV service usage among the Netflix group has dropped just three points in the last three years – from 87%, to 84%.
Meanwhile, Netflix usage among the pay TV crowd has risen 33% in that period -- from 36% in 2012, to 49% in 2015.
"So much for the hypothesis that Netflix use leads to the cancellation of legacy pay-TV services," Nick Beyer, TDG analyst and author of the firm's new study, Netflix Streamers – A Consumer Snapshot, said in a statement.
While TDG's data suggests that Netflix isn't driving cord-cutting (if anything, it would seem to justify the decision of some MVPDs to integrate Netflix with their leased set-top boxes), the OTT service "is nonetheless an incremental threat to premium TV services, in particular," Beyer added. "Today's Netflix Streamer is significantly less likely to use value-added pay-TV services such [as] PVR, premium sports, and pay-per-view than they were in 2012."
Coincidentally, TDG's findings come in the wake of standalone OTT services from premium programmers HBO and Showtime, with Starz expected to make a similar leap soon.
The smarter way to stay on top of the multichannel video marketplace. Sign up below.
Thank you for signing up to Multichannel News. You will receive a verification email shortly.
There was a problem. Please refresh the page and try again.