Netflix, Amazon Outspending Some Major TV Players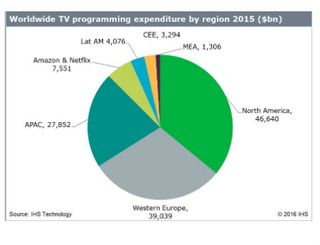 Through a mix of originals and content licensing, Netflix and Amazon upped their investment in programming last year to $7.5 billion, eclipsing CBS, HBO and Turner, as well as several countries, including South Korea and Australia, per a new study from IHS Markit.
Between 2013 and 2015, Netflix and Amazon more than doubled their annual expenditure on programming – with Amazon's output rising from $1.22 billion to $2.67 billion, and Netflix's jumping from $2.38 billion to $4.91 billion in that timeframe, according to data from the IHS study – World TV Production Report 2016.
"The levels of investment we are seeing from Netflix and Amazon are only topped by Disney ($11.84 billion) and NBC ($10.27 billion)," Tim Westcott, senior principal analyst at IHS Technology, said, in a statement.
Westcott also warned that "it's premature to declare that the era of linear TV is already over," noting that investments by OTT players have "come hard on the heels of a boom in production of original drama and comedy by the likes of AMC and FX in the U.S."
Notably, there were 148 new scripted shows aired by basic cable networks in the U.S., up from 138 the year before and 96 in 2013, per the report.
So far this year, there have been 113 scripted basic cable shows, versus 78 on the networks, 31 on premium cable, and 57 online.
On a regional basis (see chart), TV programming spending in 2015 was largest in North America ($46.6 billion), followed by Western Europe ($39.03 billion) and the Asia Pacific region ($27.85 billion). Total global spending last year was $129.8 billion, up a bit from $128.7 billion in the prior year period. However, growth was seen in 29 of the 40 countries covered in IHS's report.
RELATED: CES 2016: Netflix Goes (Almost) Global
"Amazon and Netflix, though they are US companies, are now commissioning for multiple territories, so we have treated them as global platforms," Wescott noted.
The smarter way to stay on top of the multichannel video marketplace. Sign up below.
Thank you for signing up to Multichannel News. You will receive a verification email shortly.
There was a problem. Please refresh the page and try again.