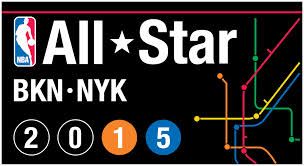 If you haven't noticed yet -- and that's fair -- given the locals' performance, the NBA All-Star Weekend is setting up shop in the Big Apple.
From turnstiles at Grand Central sporting the event's logo and pillars at the station wrapped in giant images of LeBron James and Carmelo Anthony, to the upcoming league-inspired fitness events at 100 public schools (20 apiece in each of the five boroughs), plus skills and challenge competitions at the skylight at Moynihan Station (aka the giant post office building) and LIU Brooklyn Paramount Theater, commissioner Adam Silver and squad will do their best this week to take over the town.
While ESPN will air the celebrity game featuring ABC's Blackish star Anthony Anderson (can't imagine K'ville's Marlin Boulet has much hops) on Feb. 13 from Madison Square Gardnen, it's largely TNT's time on TV.
In addition to All-Star Saturday Night festivities (shooting stars, skills challenge, three-point shootout and dunk contest) from Barclays Center in Brooklyn, TNT will receive an assist from TBS's simulcast of the game itself from the world's most famous arena – Marv Albert will call his 20th, with a hand from Reggie Miller and Chris Webber (his first) -- on Sunday.
Last year, TNT tallied 7.5 million watchers on its own, so the Turner twosome could take a run at ESPN's 8.8 million viewers for the 2015 Pro Bowl.
On Thursday and Friday, TNT's acclaimed Inside the NBA show will originate from Hammerstein Ballroom, home of joint upfront presentations past from the two networks. In upfront lore, it was also site of former Turner executive and now Atlanta Hawks owner Steve Koonin's (who shares a certain resemblance to Seinfeld's Wayne 'Newman' Knight) impromptu stand-up routine save during the 2011 pitch, when the power failed in the building.
The 34th Street venue, just a long outlet pass (or four) from the west side of MSG, will also feature some live music on Inside the NBA. At presstime, contracts for the performers' roster were still being finalized, according to Turner officials. The artists reveal will come early next week.
Another musical performance drawing attention -- and some consternation among those who reside or work in/near the Flat Iron district -- is Kanye West's show on Feb. 12. The Jay-Z Roc Nation endeavor, also featuring NBA All-Star and the impressario's sports client Kevin Durant, will take place in the Flatiron Pedestrian Plaza adjoining Madison Square Park. No word yet on whether Mr. and Mrs. Bey will join Mr. Kardasian on stage.
The area is expected to be shut down for several days, with a dozen sculpted snowmen from Swiss artist Peter Regli's "Snow Monsters" exhibit removed in preparation for the concert, which is not part of the NBA's official All-Star Game program.
But all's fair in Love & Basketball, right?
The smarter way to stay on top of the multichannel video marketplace. Sign up below.