Multichannel Planner | Week of Jan. 30, 2017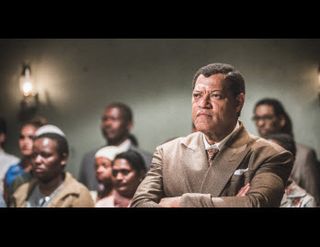 As the Trump administration heads quietly into week two, here are some datebook items MCN editors are tracking.
ON TV
As sports fans prepare for Super Bowl LI on Feb. 5, Hallmark Channel and Animal Planet are gearing up for their annual counter-programming specials featuring cute animals. Hallmark will launch its fourth annual Kitten Bowl special, while Animal Planet will look to score with non-football fans with Puppy Bowl XIII.
HBO tonight (Jan. 30) premieres the documentary Becoming Warren Buffett, and several new shows will usher in the month of February, including BET's limited series Madiba (pictured)and drama series The Quad, which both premiere on Wednesday (Feb. 1), and Netflix's comedy series Santa Clarita Diet starring Drew Barrymore, which debuts Friday (Feb. 3).
Returning shows this week include Freeform's Switched at Birth on Tuesday (Jan. 31) and Syfy's The Expanse on Wednesday, the same day History's Vikings ends season four in epic fashion.
— R. Thomas Umstead|Follow @rtumstead on Twitter
IN D.C.
On Monday (Jan. 30), the Federal Communications Commission will try to goose forward-auction bidders, which include Comcast-NBCUniversal and Dish Network, by increasing the number of rounds from two to four and shortening each from two hours to one. The auction has already met the benchmarks to close after this, the fourth stage of the forward auction, but can't officially close until there is no demand in any of the 417 geographic areas where the spectrum blocks are located.
New FCC chairman Ajit Pai will preside over his first public meeting in the center seat on Tuesday (Jan. 31). The agenda includes only one item: revisions to public-inspection file requirements, including eliminating the requirement that cable operators keep the location of the cable system's principal headend in their public inspection files, something that could pose a security threat, cable operators have pointed out.
On Thursday (Feb. 27), the House Communications Subcommittee will hold a reauthorization hearing for the National Telecommunications & Information Administration, which is the president's chief telecom adviser, including providing input on spectrum and other issues before the FCC. New subcommittee chair Rep. Marsha Blackburn (R-Tenn.) will preside.
Senate Commerce Committee chairman John Thune (R-S.D.) has scheduled a hearing for Feb. 1 on "Reducing Unnecessary Regulatory Burdens." Thune's office said the hearing will examine "the negative impacts of unnecessarily burdensome regulations on diverse sectors of our nation's economy" as well as "explore where a smarter regulatory approach would create jobs and spur economic growth." No communications industry witnesses will speak, but Consumer Technology Association president Gary Shapiro is scheduled to testify.
— John Eggerton|Follow @eggerton on Twitter
The smarter way to stay on top of the multichannel video marketplace. Sign up below.