Millennials Aren't Shunning TV Sports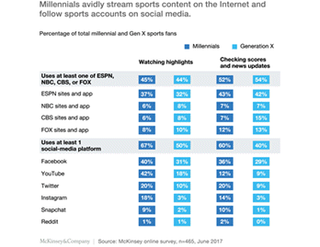 Sports are "holding up better than TV viewership overall," including their attraction to millennial-aged viewers, according to a report from McKinsey & Co. The analysis also cites viewing out-of-home and on digital platforms as offering valuable opportunities to reach the elusive young audience.

McKinsey's report appeared this month amid the current hand-wringing about National Football League viewership and a CNBC interview in which Comcast chair/CEO Brian Roberts said, referring to Sunday- and Thursday-night NFL games on its NBC network, "We're down about 5%" in football viewing. "That's a lot lower [decline] than people originally thought."

To the contrary, according to McKinsey.

"Sports are holding up better than TV viewership overall," said Dan Singer, who leads McKinsey's Global Sports and Gaming Practice. His report, "We Are Wrong About Millennial Sports Fans," acknowledges the challenge of reaching viewers "across so many screens" -- a factor that Roberts also noted in his CBNC interview last week.

"However, the number of millennials watching the NFL actually increased from the prior season (from 65% to 67% of all millennials)," McKinsey notes. "The ratings decline was caused by an 8% drop in the number of games watched and a 6% decline in the minutes watched per game (down to 1 hour 12 minutes per game)," the report continues -- invoking its frequently noted finding that young viewers are watching sports in a different ways than their elders in Generation X and boomers (that is, their parents).

"Overall reach for sports on TV hasn't declined; ratings have dropped because fans are watching fewer and shorter sessions," according to Singer.

Demographic Conclusions
McKinsey's study, based in part on Nielsen viewing statistics, draws a number of demographic conclusions that suggest how to appeal to sports audiences.

"As sports executives seek to build new direct-to-consumer channels, we find that age is an ineffective way to segment and target digital sports fans," McKinsey says. "Older generations (Gen Xers in particular) are adopting digital technology almost as fast as millennials, and fans' online behaviors are far better signals of purchase intent."

Related: OTT Players Could Change Television's Sports Game

McKinsey acknowledges that different age groups favor various sports, although viewing of National Basketball Association, college sports and Major League Soccer games is equal or higher among millennials compared to GenXers. The report notes that other factors affect sports viewing patterns, and it challenges simple demographic segmentation. For example, at about age 27, about equal numbers of people live with their parents, live on their own, or are starting their own families. McKinsey insists that each cluster spends very different amounts of time watching sports and chooses various ways to tune in.

The analysis recommends that sportscasters "target moms." It notes that male sports fans with children watched 14% fewer live games than those without kids, but women with children watched 24% more sports events than those with no kids.

The report also cites the growing importance of streaming and social media.

Millennial sports fans use streaming websites and apps such as NBCSports.com, Twitter, and WatchESPN almost twice as much as GenXers (56% versus 29%), according to the report, which also notes that younger viewers are also far more likely to use "unauthorized sports."

Not surprisingly, millennials follow sports on social media at a far greater rate than their elders. McKinsey says that 60% of millennial sports fans check scores and sports news via social media versus 40% for GenX. Twice as many millennials use Twitter, and five times as many use Snapchat or Instagram for that purpose (see chart). YouTube dominates sports highlights for millennials, edging out ESPN.com. Overall YouTube engagement per monthly unique viewer has reached 37 minutes per day for 18–24 year olds versus just 15 minutes per day for GenX, according to the analysis.

McKinsey recommends several strategies to continue feeding America's sports appetite, starting with more targeting of mobile viewers with live streams and promoting tickets on social media, such as "one-click tune-in access from social media or search." It also suggest that "Highlights are the gateway to subscription video."

"Fans who consume over 30 minutes per day of sports highlights are three times as likely to subscribe to sports over-the-top services as fans who do not," McKinsey concludes. "Fans who follow teams and players on social media are also more than twice as likely to subscribe as those who do not. Use of sports apps and mobile sites is a leading indicator; 52% of fans in our sample who check news and articles on sports sites and apps also watch live sports streams versus only 22% of those who do not."

Among McKinsey's other "implications" for "innovating the digital sports experience": design content for "whip-around viewing and quick navigation to other games," "fast, intuitive social sharing of game highlights" and "quick navigation between fantasy sports rosters and live streams."

In comparing millennials to older sports viewers, McKinsey concludes that "millennials have a fear of missing out" but like GenXers, they are "consuming digital sports voraciously, at the expense of traditional TV viewing."
The smarter way to stay on top of the multichannel video marketplace. Sign up below.
Contributor Gary Arlen is known for his insights into the convergence of media, telecom, content and technology. Gary was founder/editor/publisher of Interactivity Report, TeleServices Report and other influential newsletters; he was the longtime "curmudgeon" columnist for Multichannel News as well as a regular contributor to AdMap, Washington Technology and Telecommunications Reports. He writes regularly about trends and media/marketing for the Consumer Technology Association's i3 magazine plus several blogs. Gary has taught media-focused courses on the adjunct faculties at George Mason University and American University and has guest-lectured at MIT, Harvard, UCLA, University of Southern California and Northwestern University and at countless media, marketing and technology industry events. As President of Arlen Communications LLC, he has provided analyses about the development of applications and services for entertainment, marketing and e-commerce.