May The Forces Be With You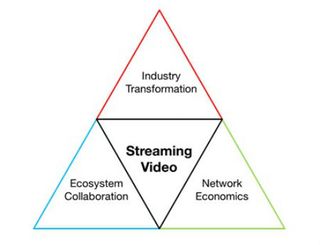 Today's connected consumers demand the ability to watch any video, anytime, anywhere with the same quality and viewing experience they'd get from watching broadcast TV on their HD flat screen. The average American now owns four digital devices, making them more digitally savvy than ever before.
This shift in video viewing signifies that traditional broadcast TV is no longer the first screen viewing option for video content. As a result, the industry must prepare for second screen domination–current trends indicate that the majority of the world will trade in traditional TV packages to stream video from a smartphone, tablet or multimedia player.
The acceleration of streaming video is due to three forces that have aligned over the past year, creating a virtuous cycle that consists of: industry transformation, ecosystem collaboration and network economics.
-Industry Transformation – "Broadcast TV becoming Internet TV," all TV brands are streaming, web streaming companies drive urgency, device proliferation.
-Ecosystem Collaboration – Streaming Video Alliance and Alliance for Open Media established, content providers eager to collaborate, ISPs want deeper relationships with CDNs and content providers.
-Network Economics – Fixed broadband Internet performance, mobile broadband penetration and performance, ISP investments to improve QoE.
It's only a matter of time before more people will stream video online than will watch scheduled programs on traditional TV, according to a new study from Ericsson. This transformation is inevitable, considering the amount of emerging offerings, abundant video content and the rising demand from consumers.
This shift is also characterized by more innovation in content bundling, as partnerships form between network providers and streaming content providers, such as the Cablevision "Cord Cutter" package. The truly compelling "skinny bundle" is also gaining popularity, where consumers with traditional cable packages (who may have upwards of 180 channels and only watch 20 of them) may instead opt for a slimmed down service like Sling TV.
To help solve some of the challenges associated with the proliferation of streaming video growth, we're seeing more ecosystem players team up to collaborate on how to best optimize content and provide a high quality online video viewing experience for consumers. More content delivery networks (CDNs) are recognizing the value of open caching in ISP networks and the need for the industry to come together in order for streaming to scale. Encouraged by forums like the Streaming Video Alliance (SVA) and the Alliance for Open Media, ISPs are beginning to look at their broadband services more strategically, permitting (and even embracing) streaming content offerings from a wide variety of content providers.
Another powerful factor in this transformation is the availability of an increasing range of affordable, high performance streaming devices. With the proliferation of smartphones, tablets, streaming sticks and multimedia players like Xbox, ISPs and content providers are seeing the second screen become the first screen for streaming. This wide range of devices has also encouraged the industry to invest in new tools to measure and optimize quality of experience for consumers across a broad range of screen sizes and resolutions. Next generation wireless technologies are also contributing profoundly to this transformation as mobile streaming is one of the best possible applications of 5G or LTE.
Content continues to be king, especially in today's binge-watching world—there is a new wave of video content emerging, resulting in a tsunami of streaming video flooding operator networks and consumer devices. The transformational forces at work in online video offerings have resulted in numerous streaming service innovations, including:
-Yahoo!'s partnership with the NFL to offer the first live streamed NFL football game
-Cablevision deal to resell Hulu
-Verizon's new go90 mobile video (opens in new tab)
With these advancements, it is no surprise that more streaming services are surfacing in new markets across the globe. For example, Kishore Lulla, executive chairman of Eros International has pioneered the "Netflix of India" with Eros Now where viewers can access more than 2,000 films and exclusive series, including movies just released in theaters. However, this service (newly launched in September) will now compete with the streaming video giant it's trying to emulate. Earlier this month, Netflixannounced that it has expanded its streaming empire to 130 new countries (including India), making it available to nearly every country on Earth.
Consumers want more streaming video choices, better services and the ultimate viewing experience. The industry has reached a tipping point where Internet TV will soon eclipse broadcast TV, creating a new model for digital entertainment. The content providers who have already raised the bar—with better content, packaging, delivery and user experience—are at an advantage as Internet TV continues its ascent above the entertainment landscape.
It's only a matter of time before the rest of the industry joins in.
-Alon Maor is CEO and co-founder of Qwilt, a provider of online video delivery and open video caching solutions.
The smarter way to stay on top of the multichannel video marketplace. Sign up below.
Thank you for signing up to Multichannel News. You will receive a verification email shortly.
There was a problem. Please refresh the page and try again.