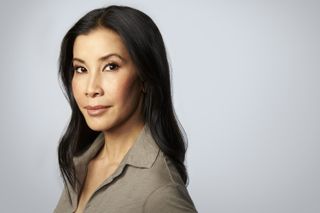 Veteran journalist Lisa Ling will launch her new series 'This Is Life' on CNN this Sunday (Sept. 28) at 10 p.m. (ET) Ling, who recently finished a five-season run with OWN for her Our America With Lisa Ling series, recently spoke to me about her new CNN series as well as her perceptions of 24-hour news network. Ling also shares her thoughts on the progress of female broadcast journalists on television. An edited version of the interview appears below.
R. Thomas Umstead: What message are you looking to covey through This Is Life?
Lisa Ling: I'm someone who believes that the more we know each other the more evolved we are as people. This show is an exploration of the many worlds that exist within our world and the subcultures that exist in our own back yard. My hope is that people will come to the show with an open mind and be prepared to be provoked and to think, and that really stimulating conversations will be ignited from watching the show.
RTU: What is it about these American subcultures that fascinate you so much?
LL: I have always been an intrinsically curious person, and I've always been fascinated by people whose lives are different from mine. I feel like as a result of familiarizing myself with different kinds of people and different kinds of cultures around the world I really feel like I've become a better person and a more well-versed and compassionate person. I really hope this series will do the same for the audience. As a culture we're predisposed to harboring a lot of preconceived ideas about people, and as you watch these shows I hope that you might be provoked to think differently.
RTU: Do you think that being on CNN as a news network will better help expose these subcultures than being on an entertainment-based network?
LL: I think that CNN is the perfect home for this show. To be honest with you CNN is the one network that I've watched consistently and constantly since the Gulf War – it's always on in my house and I've always wanted to be on CNN, but I' not a breaking news correspondent. Now that they're doing these incredible original series I feel like I've found the perfect home. The work that I do and the show that we produce is no less journalistic than any other show on the network.
RTU: Has CNN's move toward more original, unscripted programming changed your perception of CNN?
LL: My perception and feelings toward CNN haven't changed at all. I think that there is room to do different kinds of programming, and again my show is no less journalistic – it's just not breaking news, although the topics I cover are certainly topical. I know that CNN will never abandon news when it is breaking but there are times when there are lulls, and I think it's important for CNN to expand and be the home for other provocative series.
RTU: Is there a possibility that at some point you might be able to expand your relationship with CNN and do more content on the breaking news side of the business?
LL: I hope so. I truly hope that this is a very long and substantive relationship that I'm now forging with CNN.
RTU: Did anything surprise you during the filming of the This Is Life episodes?
LL: What I love about what I do is I get surprised every time I leave home and immerse myself in a different world. I'm surprised because I, like everyone else, have a perception of what people are going to be like, and inevitably as soon as I hit the ground I learn new things and I come away a smarter person as a result of familiarizing myself in a different world. Our first episode is a prime example: it's called "Sugar Daddies, Sugar Babies," and it's about older, moneyed men who seek out younger women and younger women who maybe seeking out older men to pay for their college tuition. You might immediately have an opinion about both the men who do this and the women who do this, but I guarantee that if you watch this episode, you will be taken in different directions. In the end you might well think differently than you initially thought.
RTU: Today there are a number of prominent female journalists on television including you. Is the industry finally moving in the right direction in terms of hiring and showcasing female journalists on television?
LL: While there has been a lot of progress in the way of having more women in broadcast journalism, I still think that we have a long way to go. I think there is still quite a large disparity between men and women on air journalists and I still think more needs to happen.
The smarter way to stay on top of the multichannel video marketplace. Sign up below.
Thank you for signing up to Multichannel News. You will receive a verification email shortly.
There was a problem. Please refresh the page and try again.