Hungary's Tripping Camerawoman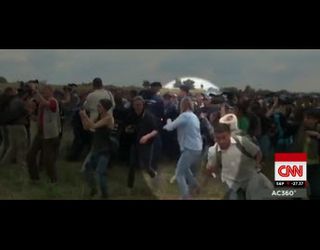 The video images of the Hungarian photo-journalist first being bumped by fleeing immigrants, while she was outside in a field taping, was troubling. Her name is Petra Laszlo, and she works for the Hungarian TV station N1TV. She was just doing her job, and found herself caught in a panic not of her making.
Having been there myself, I tried to sympathize as to how she must have felt. She had this large group of "outsiders" quickly surging her way, while she tried to capture the event for her employer. She might have been trampled.
What really turned a rather minor event, though, into a global embarrassment for all journalists, was her reaction. Indeed, it turned the relatively minor occasion into an international embarrassment for Hungary as a nation, but as important, globally, and professionally, for journalists and journalism as a trade.
I feel shamed.
She pro-actively was filmed doing her worst version of multitasking. With one appendage, she continued to do her job of chronicling the event for history. Yet, with another rather malevolent appendage, she threw the image of the media into the dust, as she actively thrust her leg and intentionally tripped a running man in obvious fear, indeed as he tried to carry his infant from harm. Then she kicked a young girl half her size. It was pretty clear, as well, that the young girl and the man she tripped had not intentionally harmed her.
Indeed, it was scary to see.
Interestingly, perhaps this woman epitomized the collective angst and unfriendliness of the Hungarian people toward these Syrian, Iraqi and Afghani newcomers. I hope not.
Rather, what really burns -- and what I would like to apologize to these immigrants for (as a longtime and proud member of the journalist community), is what this act said to the world about journalists.
In doing this, I sincerely hope that the world gets what I have always said. I hope it gets what I still believe fervently is true: The profession of journalism is indeed a noble one. And it remains so.
I base this upon, and am comforted on this 9/11 by, the knowledge that 14 years ago today my profession did its job stunningly well, as it captured a truly world-changing event in New York; Washington, D.C.; and Shanksville, Pa.
Yet, just as is true with any profession, there are bad apples. There are those who let the bad side of their natures and their bad acts get the better of them. This was truly the case with this rather weak videographer this past week in Hungary.
But --I think I will be able to say this forever -- actions like hers will never be representative of the trade of journalism, nor journalists.
In conclusion, to the people of Hungary, and most fervently and importantly to the immigrants and to the rest of the world (as but one sincere journalist on behalf of our profession): I, and we, apologize. This woman does not represent us, and she is not representative of the great good our profession or what we do.
Thank you, in advance, for your understanding and continued positive attitudes toward us and what we do.
We journalists will keep trying to earn that.
Jimmy Schaeffler is chairman and CSO ofThe Carmel Group, astreaming/broadband, broadcast and pay TV/video consultancy based in Carmel by the Sea, Calif.; he writes about telecommunications and media.
The smarter way to stay on top of the multichannel video marketplace. Sign up below.
Thank you for signing up to Multichannel News. You will receive a verification email shortly.
There was a problem. Please refresh the page and try again.