Greenfield: Brace Yourself for Viacom 'Red Wedding'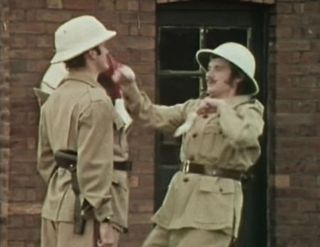 While Viacom executive chairman and CEO Philippe Dauman and his former friend and mentor Sumner Redstone engage in what has become a media-business version of the fish-slapping dance, BTIG media analyst Rich Greenfield believes Viacom board members should brace themselves for a more modern TV classic, the Red Wedding.
In a blog post Tuesday, Greenfield wrote that despite the trading of lawsuits and claims of incompetency and undue influence, the whole depressing mess only has one logical outcome – the removal and replacement of Viacom's current board of directors and the ouster of Dauman.
Key to that premise is the make-up of the seven-member Sumner M. Redstone Trust, the vehicle that will control Redstone's 80% voting control of Viacom and CBS in the event of his death or incapacitation. According to Greenfield, three members are likely to be loyal to Redstone's daughter Shari Redstone – her mother Phyllis, her mother's divorce attorney Leonard Lewin and David Andelman, who until recently was the sole wild card in terms of loyalty. Andelman, a long-time Viacom board member, signed off on the document that removed Dauman and Viacom board member George Abrams from the trust, which started the whole dustup to begin with.
With those three trustees at her side, Shari Redstone would win every board decision by a minimum 4-3 vote, regardless of the outcome of the recent lawsuits.
"Given that the SMR Trust controls National Amusements, which controls CBS and Viacom, even if a court undoes everything that has recently happened, the SMR Trust will simply redo it all after the SMR Trust takes control of decision-making for Mr. Redstone," Greenfield wrote. "Dauman is simply delaying the inevitable and [wreaking] havoc on Viacom's day-to-day operations."
The Red Wedding angle comes in the event that National Amusements, which holds Redstone's interests in CBS and Viacom, with the backing of the SMR Trust removes all nine non-Redstone members of the Viacom board and kicks out Dauman and his top management, a move Greenfield believes is a matter of "when, not if."
The analyst wonders aloud that given the hopelessness of the situation, why Dauman is even trying to postpone the inevitable, adding that the Viacom CEO has a history of engaging in battles he can't win.
"Maybe we should just chalk this us to irrational decision-making," Greenfield wrote, adding that perhaps Dauman believes he and George Abrams, once reinstated to the Trust, can then persuade Lewin and Andelman to their sides.
Whatever the reason, Dauman's days may be numbered no matter what. While he may truly believe that he can turn around Viacom, investors have driven the stock up by almost 20% since the battle with Redstone began in late May, which appears to show their preference for an outcome. And while Greenfield sees the endgame as a bloody, relentless assault, I think of it as more like the aforementioned Monty Python sketch. In that classic, the ultimate winner is the one who has the biggest fish.
Thank you for signing up to Multichannel News. You will receive a verification email shortly.
There was a problem. Please refresh the page and try again.