Fox Sports Ready to Do a 360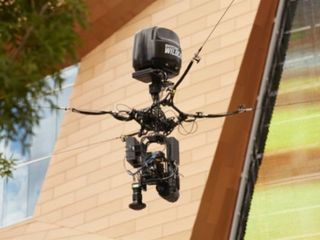 Fox Sports is placing another sizable bet on virtual reality this weekend as it again teams up with LiveLike to assemble a "virtual suite" that will provide the main broadcast of the Notre Dame at Michigan State college football matchup alongside other several other bells and whistles.

RELATED: Notre Dame-Michigan State Game to Run Social VR Play
In addition to allowing for a social experience (a visitor to the virtual suite can watch it with three other fans or friends, as Fox Sports did during the summer for the CONCACAF Gold Cup), users will also get access to a 360-degree, floating Skycam (that's a photo of the camera above) feed that, in addition to the Fox Sports VR app, will also be featured on Twitter (@CFBonFox), Fox College Football (CFBonFOX) on Facebook, and the Fox Sports YouTube channel (Fox Sports will also make the c360 footage available for use in the primary Fox game broadcast).
RELATED: VR Evolution Continues at Fox Sports (subscription required)
"It's almost like getting a player's perspective," Jeb Terry, VP of partner and program management at Fox Sports (and a former NFL player), said. "It will give the fan the ability to kind of choose their own adventure and explore this angle like never before… and get a next-level type view of the action."
Fox Sports is also evolving the social component of the VR experience on Saturday to make it more accessible. Users will also have the ability to choose from school-themed avatars.
"We think this is going to be a great representation of where this thing can go," Terry said. "Our hope is that a Notre Dame fan in California can get in a suite with his buddy, who's a Spartan in New York, and they can watch the game together."
Users will be able to access the digital suite on the authenticated Fox Sports VR app for iOS and Android mobile devices and experience it using the "flat" 3D (non-headset) view, or use it in tandem with an Oculus-powered Samsung Gear VR mobile headset.
Most users of the Fox Sports VR app have entered the non-headset experience so far – not surprising given that consumer adoption of those headsets is still in the early phases.
"But you can still explore the space and have a new unique angle that you might not have had before," Terry said. "We think it's a value-add for both scenarios [headset and non-headset] and we'll continue to optimize for both use cases."
A Wendy's sponsorship is helping to pay the freight for the VR experience and the Skycam views that are tied to Saturday's game.
"Sponsors, in in general are looking for more ways to associate with the game...and tap into the fandom that all college sports have," Terry said. "It's our goal to make sure we have that robust offering across every screen, and every tech that we believe in for brands and fans to have the option to engage with."
The smarter way to stay on top of the multichannel video marketplace. Sign up below.