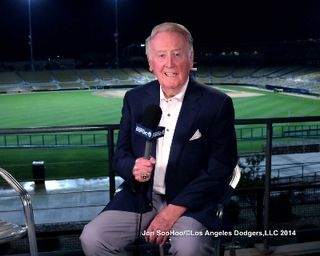 The broiling carriage dispute between Time Warner Cable's SportsNet LA and DirecTV took a nasty turn last week, but the straw that could break the proverbial camel's back involves one single customer who won't get to enjoy watching Los Angeles Dodgers baseball games in the comfort of his own home – Vin Scully.
That's right. The golden-voiced Dodger's announcer is a DirecTV subscriber and according to reports won't get to watch the games he isn't covering. DirecTV isn't the only distributor not carrying the network – Cox, Dish Network, AT&T U-Verse, and Charter also have declined to carry the channel so far. To date, only subscribers of Time Warner Cable, Bright House Networks (in Bakersfield, Calif.) and Champion Broadband (in Monrovia and Arcadia, Calif.) have access to the network.
In characteristic classy fashion, Scully declined to get involved in the bloody scrum that has become commonplace in sports carriage disputes, telling the Los Angeles Daily News "The less I say about it, it's probably the better."
That is advice that both Time Warner Cable and DirecTV should take to heart. In the past few days, according to reports, both sides kicked up the acrimony a notch, with TWC EVP and chief video and content officer Melinda Witmer telling theLos Angeles Timesthat DirecTV walked away from the negotiating table and has no intention of carrying the RSN this year. DirecTV said "that nothing could be further from the truth," followed by the usual claims of deception and manipulation by Time Warner Cable.
Look, these disputes are always about money – Time Warner Cable is reportedly demanding upwards of $4 per subscriber per month for SportsNet LA, on top of the $3 or so it gets for the Lakers channel, Time Warner Cable SportsNet. And both sides are equally guilty of escalating levels of name-calling during these disputes – followed by their heartfelt thanks that consumers have been spared the horror of missing their favorite show or team for a week or a month or so after these deals are reached.
But in dragging Vin Scully, THE Vin Scully into this mess, I'm hoping that maybe just maybe it could drum up enough public outrage to settle this matter. (I'm a Yankee fan, but I find it hard to believe if Michael Kay lost access to the YES Network, anyone would notice.) Or a least it could give both sides some words to consider living by.
Scully has a lot of those words, as a quick look at the Baseball Almanac proves. After all, this is the guy who said of former Montreal Expo and Chicago Cub Andre Dawson's bruised knee – it's "listed as day to day, but aren't we all?" Who said "Good is not good when better is expected." Whose most famous home run call was simply "Forget it."
The smarter way to stay on top of the multichannel video marketplace. Sign up below.