Five Things You Need to Know About Altice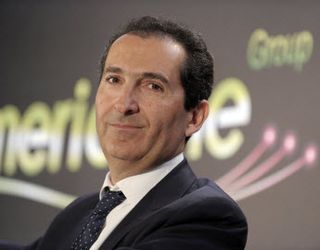 While most people may have a hard time naming three things from Luxembourg (Hint: Jean-Claude Van Damme isn't one of them), cable operators would be smart to bone up on their knowledge of the tiny country wedged between Belgium, France and Germany, and especially its telecom company, Altice.
Altice burst on the cable consolidation scene Wednesday as the surprise acquirer of Suddenlink Communications and made no bones about its intentions – it wants to be a big part of the consolidation trend in the U.S. cable business. But aside from an unusual name and an obvious appetite for acquisitions, not many people in the U.S. know much about the Luxembourg telecom giant, its executives or its track record. Here are a few things you should know about what could be the next big cable buyer.
1. Its founder Patrick Drahi, a French Moroccan billionaire (motto: "Always Start with Cable"), got his start selling cable subscriptions door to door.
2. Altice has been on an acquisitions binge in the past two years, spending $30B in 2014 alone ($23 billion of that in the purchase of French wireless provider SFR). It has about 3.1 million cable customers (1.6 million in France and 1.1 million in Israel), but more than 20 million wireless subscribers.
3. Drahi, a citizen of France but a resident of Switzerland is ranked 57th among the world's billionaires, according to Forbes, with a net worth of $16 billion. He has been called the European John Malone (162nd on the Forbes list with a net worth of $8.5 billion) and his CEO Dexter Goei was picked by Malone investment Charter Communications as a member of the board slate it has proposed for Time Warner Cable before that deal went south.
4. Altice has a simple strategy for its acquisitions – extract greater value by cutting costs significantly and increasing profits. And it has had some success along those lines – it boosted cash flow margins between four and 10 percentage points at operations in Israel, the Dominican Republic and the Benelux countries last year. But how it will cut costs in the U.S. is a bit of a mystery. For example, in announcing the Suddenlink deal, Altice said it anticipates about $215 million in cost synergies, but offered no details beyond its track record of cutting costs with other acquisitions. Said Elevation LLC senior TMT strategist Stephen Sweeney in a note to clients: "There really aren't the typical administrative and contiguous geographic market costs cuts that you would see in a typical US intra-market deal, so we are somewhat skeptical on ATC's synergy estimates, particularly with regard to programming expenses."
MoffettNathanson principal and senior analyst Craig Moffett put it more bluntly: "The combination of Suddenlink and Altice makes no sense," he wrote. "The idea that there are cross-border synergies in physical network operations is a fantasy. Meanwhile, Suddenlink is a well-run, albeit sub-scale, operator, so neither are there obvious 'fixes' to support higher margins. Altice's $215 million in synergies would suggest that they can cut 27% out of Suddenlink's non-programming/non-franchise costs, or more than $11 per subscrbier per month. We'll take the under."
5. While Altice has grabbed a lot of headlines because of its aggressive deal making, there are some who believe the company may have already bitten off more than it can chew. The Suddenlink deal includes about $1.2 billion in Altice cash, but the rest of the $9.1 billion price is in the form of assumed Suddenlink debt, vendor financing and rolled over debt from the current owners. According to Forbes magazine, at one of Altice's past targets – French cellular company SFR -- the pressure to cut costs is so bad that some staff have complained of not having toilet paper in its bathrooms or being able to fill its printers with paper.
The smarter way to stay on top of the multichannel video marketplace. Sign up below.
Thank you for signing up to Multichannel News. You will receive a verification email shortly.
There was a problem. Please refresh the page and try again.