5 Quotes to Ponder From the TV Critics Tour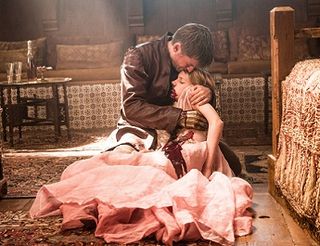 Last week during the cable portion of the Television Critics Association summer tour executives and celebrities spoke to TV writers at length about their original programming projects.
Yet some of the talent and execs onstage couldn't avoid answering some off-topic questions I'm sure they would have rather avoided, while others jumped at the opportunity to address what many may perceive as touchy subjects.
So here are five off-the-cuff topics that executives and celebrities addressed during last week's TCA sessions.
Actor Dwayne 'The Rock' Johnson on recent revelations of racially-tinged comments from WWE star Terry "Hulk Hogan" Bollea:
"I was pretty disappointed with what I heard, like all of us. I've known Terry for a lot of years, and my dad helped train him in Florida in the '70s when he was breaking in the business. And my uncles helped train him, too, as well. So I have not known the man to be racist. It's one of those things -- and not justifying what he said -- we've all talked trash, especially in private. And he said what he said, and he's paying the price."
HBO president programming Michael Lombardo on the violence in 'Game Of Thrones':
"This show has had violence as part of one of its many threads from really the first episode. I can't speak to any single person's particular taste or saturation point. I think the show is phenomenal … I think the show continues to grow dramatically. I think there's no two showrunners who are more careful about not overstepping what they think the line is … I support them fully artistically."
Orange Is The New Black actress Lea DeLaria on the show's influence on the awareness and perception of the LGBT community:
"I have to say that a large part of what we've done as a part of the politics of the LBGT community has been about gaining our rights, fighting for our rights, achieving our rights. And recently it's been turned a little bit more towards winning the hearts and minds of people. And I feel very strongly that `Orange Is the New Black' has been very important in that part of what's happened to us and our community."
Discovery Channel's Racing Extinction producer Fisher Stevens on the killing of Cecil the lion and why there seems to be an increase in wildlife game hunting:
"People are getting wealthy … there is a new economic middle class and upper middle class forming in certain places that is craving these things, that's making the market go. [But] you are hearing about a lot of it now, too, because of the Internet and because of social media and because there are people capturing these images that are hopefully, like what just went on with Cecil,helping the world become aware of what is going on."
Adobe head of MVPD industry strategy Jennifer Cooper on the ability of Adobe and Nielsen's new partnership to measure non-traditional television viewers for advertisers:
"One of the reasons from a strategic perspective Adobe and Nielsen are partnering is actually to address that problem and others because Adobe is inherently measuring nonlinear television audiences in every channel. When we bring the measurement into a single view, it will actually help the advertising community to bring those audiences together."
The smarter way to stay on top of the multichannel video marketplace. Sign up below.
Thank you for signing up to Multichannel News. You will receive a verification email shortly.
There was a problem. Please refresh the page and try again.