NBA's Five Games Of Christmas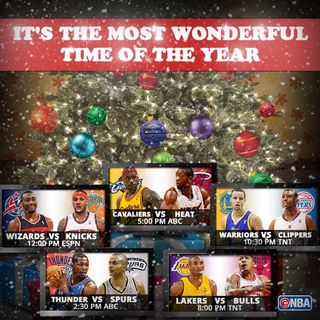 When it comes to sports, if Thanksgiving is the NFL's day, then Christmas is all about roundball.
For the 67th year overall and the first under Santa Silver, here's a spirit-of-the-season Dec. 25 programming guide for the NBA.
Jimmy Dolan's Madison Square Garden manger may need Phil Jackson's Zen more than frankincense and myrrh, but the gold will be in the house as the New York Knicks mark their 50th Christmas appearance, dating all the way back to 1947 against the Providence Steamrollers. This year's noon (ET) encounter on ESPN may take Clement Moore to the top of the porch, to the top of (John) Wall, where the Washington Wizards look to dash away, dash away, dash away all from Carmelo Anthony's struggling crew.
ABC at 2:30 may summon the ghosts of NBA future with Kevin Durant, Russell Westbrook and Serge Ibaka, as the Oklahoma City visit the ghosts of NBA championship present, the San Antonio Spurs, and Gregg Popovich's three wise men, Tim Duncan, Manu Ginobili and Tony Parker.
For those who prefer their Christmas in more Frosty climes say like in Akron, Ohio, South Beach may not necessarily be the place to celebrate. Still, at 5 p.m. on the broadcaster LeBron James will bring his new Cleveland Cavalier courtiers Kyrie Irving and Kevin Love to the place where he hung his stocking the last four seasons: Miami's American Airlines Arena. Hopefully, a nagging calf injury won't throw coal on former Big Three running mate Chris Bosh, or The King only will be left to engage season's greetings with Dwayne Wade and Heat coach Erik Spoelstra.
At 8 p.m., TNT showcases the Los Angeles Lakers and their "Father Christmas," Kobe Bryant, who will play for a league record 16th time on the holiday. Holly may be the flower of the season, but there is no better gift for Chicago Bulls fans than having a (Derek) Rose in bloom at the United Center.
The 10:30 nightcap on TNT may be the top matchup on the Christmas list with the league-leading Golden State Warriors invading the Los Angeles Clippers at Staples. But given their dustup last Christmas and animus after the Clippers edged the Warriors in Game 7 of opening round of the 2014 playoffs, there may not be glad tidings as this could turn out to the Grinch game.
Ho, ho, ho.
The smarter way to stay on top of the multichannel video marketplace. Sign up below.