FCCers, Alumni Rise to 'Ice Bucket Challenge'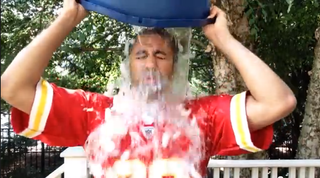 The Federal Communications Commission is getting in the spirit of the August ALS research-funding ice capades that have taken over YouTube, perhaps as a relief from the serious, globe-unhinging events here and abroad.
At least four of the FCC's five commissioners have taken the ALS ice-bucket challenge, according to YouTube videos documenting the events, and there is word former FCC chairs have been putting themselves on ice, or at least under it, as well.
The challenge to the commissioners came from former FCC commissioner Meredith Attwell Baker, now head of CTIA, who took the challenge while visiting AT&T in Atlanta.
Jessica Rosenworcel took one for the team late Thursday, donating and challenging three others to do the same.
Originally, the deal with the challenge was to either dump water on your head or donate, but that left people wondering if the drenching was in lieu of donations, which would be the wrong signal to send. Now it appears to have morphed into doing both.
Rosenworcel challenged former FCC chairman Reed Hundt, skier Lindsey Vaughn (her favorite Olympian) and Big Bird.
FCC commissioner Ajit Pai (pictured) dumped the bucket on himself over the weekend, saying it was in part in memory of an aunt who had died of the disease, and challenged another former chairman, Julius Genachowski, former National Football League tight end Tony Gonzalez (he wore the ex-player's Kansas City Chiefs jersey in the video) and "the judge in the highest court in the land, Judge Judy."
Commissioner Mike O'Rielly said that since he believed in private charities -- perhaps a bit moreso than government handouts -- he would be glad to both donate and take the challenge.
Hill telecom staffers called out by O'Rielly also took buckets for charity.
FCC commissioner Mignon Clyburn on Wednesday (Aug. 20) added her name and wet head to the roll of commissioners who have taken the ice bucket challenge to raise money for ALS, as this latestYouTube video attests.
That leaves only the chairman, Tom Wheeler, who is currently out of town.
Clyburn challenged five others to follow suit: Rep. Greg Walden (R-Ore.), chair of the House Communications Subcommittee; Condoleeza Rice; her father, Rep. James Clyburn (D-S.C.); former FCC commissioner Rob McDowell; and former chairman Michael Powell.
FCC chairman Tom Wheeler is out of town, so his bucket plans were unavailable.
Late last week, Genachowski emailed to say his family had beaten Pai to the punch -- or ice dump, as it were -- "Happy to have been challenged by Ajit Pai," he said. "My 22-year-old son had already beaten him to it, challenging me over the weekend! And my 10-year-old daughter did the ice-bucket honors on Monday," he said, adding that he had also contributed. Genachowski said he has no video of the event, just a photo only being shared with family.
Hundt also checked in to say he would be taking Rosenworcel up on the challenge last week, and would supply a video when it became available. He took issue with the lack of evidence on the Genachowski dunking. "I demand video proof of a thorough dunking," Hundt said.
At deadline, a National Cable & Telecommunications Association spokesperson said Powell would also be taking the challenge, complete with video.
The smarter way to stay on top of the multichannel video marketplace. Sign up below.
Thank you for signing up to Multichannel News. You will receive a verification email shortly.
There was a problem. Please refresh the page and try again.