Dish-EchoStar 'Sling AirTV' Nears Retail Debut: Report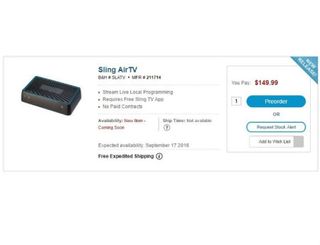 Dish Network and corporate cousin EchoStar appear to be nearing the retail launch of Sling AirTV, a product that integrates over-the-air broadcast TV with Sling TV's OTT service.
That product, which uses the Slingbox M1/M2 form factor, will cost $149.99 and launch sometime next month, according to ZatzNotFunny, which located a "draft" listing on Amazon that sheds more details on the product.
ZatzNotFunny first spotted details about AirTV last April. Sling TV and Dish have been asked to comment on rollout plans for AirTV.
Update: Dish declined to comment.
Per that listing, the device is "coming soon" and allows users to stream live local programming, is compatible with antennas from suppliers such as Mohu, and "requires" the Sling TV app. Here's more detail on how the draft listing describes AirTV:
"With AirTV and an HD antenna, you can stream live local programming, news and your local sports anywhere in your home using the free Sling TV app and its integrated program guide. No paid contracts-just free local TV on any compatible device. And if you want more channels, you can subscribe to paid Sling TV packages-all from the same app."
Dave Zatz noted on the blog that Dish and EchoStar had been targeting a late spring 2016 launch, but now believes Air TV is "on track for a revised September release running $150."
Even without AirTV, Sling TV has been making progress in other ways when it comes to supplying local TV programming.
In January, Sling TV launched an app on Channel Master's DVR+ platform, a subscription-free DVR that integrates broadband connectivity (for OTT services) and over-the-air TV tuning capabilities.
Sling TV's new multi-stream "Blue" tier, which runs $25 per month, offers local Fox and NBC feeds in select markets, and has been offering local ABC feeds in Chicago, Fresno-Visalia, Houston, Los Angeles, New York, Philadelphia, Raleigh-Durham, and San Francisco via a Broadcast Extra add-on package (opens in new tab) that costs an additional $5 per month.
Thank you for signing up to Multichannel News. You will receive a verification email shortly.
There was a problem. Please refresh the page and try again.