Dish Drop Could Be Devastating For Viacom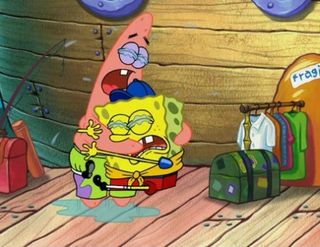 As Viacom readies for the possibility that it will be dropped by the second largest satellite TV service provider in the country – Dish Network – Sanford Bernstein media analyst Todd Juenger said in a note to clients that failing to reach a deal could be a major blow for the programmer.
In an e-mail message Tuesday after news broke that Viacom was preparing itself for the worst as the midnight deadline for its Dish deal approached, Juenger steered clients to his August research report where he mapped out what could happen if Dish ultimately decided to drop the networks.
In that August report, Juenger estimated that Viacom's stock would fall to about $28 per share in the wake of Dish dropping its channels. But Jeunger added that he hasn't updated the model since August and that the price could change.
"…since we published it, things have gotten materially worse for Viacom, including a significant guide down in affiliate fees as well as under-performance at Paramount," Juenger wrote in the e-mail message. "Needless to say, the model and expected share price would look worse today."
Viacom shares were pounded on Tuesday, falling as much as 9.2% ($3.59 each) to $35.28 in earlier trading. The stock was priced at $35.82, down 8% or $3.06 each, at about 2 p.m.
The news that talks have apparently broken down come as a bit of a surprise, given that Viacom and Dish have gone through several extensions and negotiations appeared cordial at least at the beginning.
While a deal could still be reached at the last minute, there is the potential for any blackout to be a prolonged one.
Dish chairman and CEO Charlie Ergen, who has taken a hard line in carriage negotiations in the past, called it a "positive" sign when Viacom granted the satellite company a brief extension in February. But he was also quick to say that if he were to drop that networks, he would be ready to do without the channels for a long time.
"I always tell my people if you take something down, be prepared to live without it forever," Ergen said during an earnings conference call in May. "Otherwise don't take it down."
Losing Dish would mean an immediate 8% drop in affiliate fees and a 10% decline in advertising revenue for Viacom, Juenger estimated. It also would affect future carriage negotiations with other distributors. Juenger estimated that 11% of Viacom's carriage deals come up for renewal between now and FY2018 and that half of those deals wouldn't be renewed in the wake of a Dish drop.
If it decides to do without the channels, Dish would be the third MVPD that has dropped Viacom in the past two years. Cable One dropped the channels in April 2014 and has done without its MTV ever since, losing about 20% of its video customer base as a result. Suddenlink Communications dropped the Viacom channels in September 2015 and its losses have been minimal, according to the company. But Suddenlink was purchased by Altice NV in December. Altice is also in the middle of the approval process of its purchase of Cablevision Systems, which carries the Viacom channels. Whether Altice will restore the Viacom networks to Suddenlink after the Cablevsion deal closes – anticipated in June – is anybody's guess.
Dish, which has lost about 160,000 video customers in two years, ending 2015 with 13.897 million customers compared to 14.057 million in 2013, and surely doesn't want to lose more. But it may be of the belief that the costs savings in not carrying the Viacom networks is worth it. In a statement, Dish claimed that Viacom was seeking "hundreds of millions of dollars" in fee increases. At average monthly revenue per subscriber (ARPU) of $86.79, Dish could lose 200,000 customers for a full year and still only be out a little more the $200 million in revenue.
The subscriber toll could be much heavier – Juenger conservatively estimated that one-third of Dish customers (about 4 million) could switch providers to keep the networks, although he believed losses would probably be far less than that.
Viacom has been on a rocky path for the past few years, with declining ratings, a plunging stock price and fears that the touchstone for the younger generation was losing its mojo. Lately, the company has been under intense scrutiny after a lawsuit emerged questioning the mental capacity of its largest shareholder, former executive chairman Sumner Redstone.
Back in May, Ergen also noted that networks that ask for big increases yet deliver anemic ratings and are available on other platforms, are making less and less sense.
"When somebody comes in and says, 'I want a double-digit rate increase,' and they've had double-digit viewership declines, we don't think that math works for us," Ergen said in May.
For Viacom's sake, let's hope both sides find a new calculus to make a deal work.
The smarter way to stay on top of the multichannel video marketplace. Sign up below.
Thank you for signing up to Multichannel News. You will receive a verification email shortly.
There was a problem. Please refresh the page and try again.