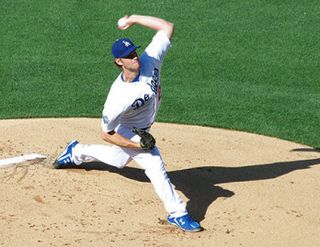 After losing hundreds of customers to Los Angeles area competitors during its decision not to carry Time Warner Cable SportsNet, the regional sports channel that carried Los Angeles Lakers NBA games, DirecTV decided to play hardball with the cable operator's newest RSN, SportsNet LA.
According to a Dept. of Justice lawsuit filed Wednesday, DirecTV's VP of Programming Dan York and then-CEO Mike White colluded with the other three top distributors in the market – Cox Communications, Charter Communications and AT&T – to effectively lock out pricey SportsNet LA, the network owned by Major League Baseball's Los Angeles Dodgers and managed by TWC.
The suit goes all the way back to the 2014 launch of SportsNet LA, itself rife with controversy because of the reported fee Time Warner Cable was demandning -- about $5 per subscriber per month. To this day, only Charter Communications, which purchased TWC in May, carries the network in the market along with some smaller operators. DirecTV, bought by AT&T in July 2015, still doesn't carry the network and neither does AT&T U-verse. Distributors were of one voice in their displeasure about the channel, which they believed was a product of out-of-control sports costs.
"Sticking together" to fight high programming costs has been a mantra for cable, satellite and telco TV operators for the past couple of years, usually when they are talking about retransmission consent fees from broadcasters and sports channels. Heck, they even formed an alliance to get the word out about high programming costs – the American Television Alliance (ATVA).
But what is different in this instance – if the DOJ is correct – is that DirecTV took the whole brotherhood of distributors a step further, sharing sensitive pricing information with competitors and agreeing not to cherry pick each other's customers. And it didn't stop with Time Warner Cable and SportsNet LA. According to the suit, York and Charter Communications' then SVP of Programming – most likely Allan Singer, who held the position at the time – agreed not to run ads by The Weather Channel attacking DirecTV after heated carriage negotiations led to that channel being blacked out to DirecTV customers. According to the suit, the Charter executive called the favor "my little bit for the planet earth."
For the record, DirecTV's current parent, AT&T, denies any wrongdoing in the SportsNet negotiations and in a statement said it anxiously awaits its day in court.
In other instances, the suit claims that DirecTV and Cox Communications – which together controlled about 70% of the Los Angeles area pay-TV market – shared sensitive information on at least 10 occasions around the SportsNet LA negotiations, promising to keep each other abreast of any changes in the talks. In one discussion, the suit states York agreed to give Cox a "heads up" if it decided to carry the channel, in case Cox wanted to reach its own agreement first to secure any MFN rights. That would have been contrary to DirecTV's own interests, the suit stated, in that it could have risked DirecTV's own terms for he channel and given a more favorable price to a competitor.
In a statement, Cox said it is "gratified that we were not named as a defendant. We continue to be committed to making independent decisions on program content."
With AT&T, York allegedly offered to show its new president of content the local ropes – York had previously been president of content for AT&T before moving to DirecTV in 2012.
The two held several discussions about SportsNet LA, with the AT&T executive referring to negotiations with TWC about the sports network as "pitches.
In one email exchange the AT&T executive told York about a "[##] mph pitch" the company received from Time Warner – the actual figure was redacted in the document but the DOJ footnoted that "the speed of the quoted pitch in this text matched the cents in TWC's offer to AT&T." After the AT&T exec asked York if DirecTV got the same offer, York replied, "Hope u hit it out!"
The intrigue may have been unnecessary had TWC just taken the same tack with SportsNet LA negotiations as it had with its other sports channel, Time Warner Cable SportsNet, which carries Los Angeles Lakers NBA games.
According to the lawsuit, Time Warner Cable had already successfully negotiated carriage deals for the Lakers network, using a "divide and conquer strategy," offering "size-insensitive" most-favored-nation (MFN) agreements to smaller operators – essentially offering them the same price for the channel as larger distributors for a limited time. That strategy paid off – with smaller operators able to offer the channel, larger distributors feared they would lose customers and signed deals to carry the channel. DirecTV, the largest MVPD in the Los Angeles market, lost hundreds of subscribers to competitors when it held off on signing a Lakers deal early on. DirecTV relented, signing a deal for the channel on Nov. 14, 2012, about two weeks after the NBA season started.
When SportsNet LA came up for negotiation, DirecTV initially was ready to carry the channel, but hoped to negotiate a lower price, according to the suit. But when White discovered that TWC wasn't offering the size-insensitive MFNs to its competitors, he sensed an opportunity.
According to the suit, White had received a initial price from TWC for the network in February 2014, but thought it was too high. One month later, White sent an email to York stating that distributors "may have more leverage if we all stick together," on the Dodgers channel, according to the suit. York agreed, adding that "others holding firm is key."
The smarter way to stay on top of the multichannel video marketplace. Sign up below.