Dancin' With Disney: Three Questions for Kenny Ortega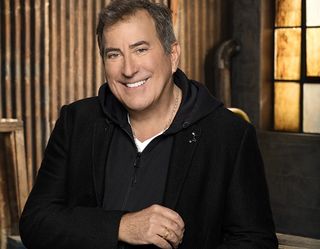 Director/choreographer Kenny Ortega has teamed with Disney Channel over the past decade to create some of the most successful cable original movies of all time including the High School Musical franchise, The Cheetah Girls2, and most recently, the network's Descendants and Descendants 2.
I had a chance to sit down with Ortega --who also directed the record-setting 2009 concert film Michael Jackson's This Is It as well as choreographed such events as the 1996 Summer Olympics and Super Bowl XXX -- to talk about his illustrious career as well as to discuss the future of musicals on television. An edited version of the interview appears below.


You have directed a number of Disney Channel movies throughout the years.  What is it about these movies that appeal to you?
I get to do what I've always wanted to do, which is tell stories that are driven with music and dance. I love the genre and I love working with family stories and with young people -- not that I don't enjoy working with mature actors.  In our first [Descendants] movie, we had the incredible Kristin Chenoweth, Kathy Najimy and Wendy Raquel Robinson.  I always dreamed that I would be working in musicals, and Disney Channel has provided that opportunity for me.




Kenny Ortega and co-star China Anne McClain
discuss Disney Channel's 'Descendants 2'


Disney Channel is one of the few networks that produce musical movies.  Why don't we see more music-themed content on tv?
Disney found an audience -- and I think network television has found an audience -- for musical television, which is fantastic.  I'm a big fan of the live television musicals because I know what it takes to put on a musical. I come from the theatre, so when I'm watching them, I have an appreciation for all the technical aspects that make it all happen. So, for me, I think it's thrilling and challenging. But television began with live programming; all of it was live.  There were no such thing as pre-taped shows – live interview and music was one of the first inhabitants of television.  I think what Disney and the networks are doing is a return to the beginnings of what made television so special.  Disney Channel -- not only with High School Musical but with The Cheetah Girls & Camp Rock, and artists like Miley Cyrus, Jonas Brothers, Selina Gomez -- and even before that with Brittany (Spears) -- has found a young, family audience that really enjoys music storytelling that can suspend their disbelief.  I think adults have a little more of an issue with being able to suspend their disbelief of a story suddenly breaking into song.
What has been your biggest accomplishment to date?
I have alot of projects I'm proud of, but I think the biggest accomplishment for me was something that I wasn't in charge of -- its something that to this day I still can't quite figure out why or how it happened.  That's being able to work with great people that have enabled my career -- Gene Kelly, Michael Jackson, Francis Ford Coppola, John Hughes and so many other people that I've worked with and met along my journey. I've been a very fortunate person to have come into the company of such incredible artists that have enlightened me, taught me, mentored me and coached me. I've been in theatre; I've worked sporting events; I've been able to work in concerts obviously with Michael (Jackson) and other artists; I've been able to work in television; I've been able to work in feature films and I'm producing a record right now.  So, I've been really, really fortunate that my life has enabled me to play in a number of different fields.


Weekly digest of streaming and OTT industry news
Thank you for signing up to Multichannel News. You will receive a verification email shortly.
There was a problem. Please refresh the page and try again.