The Content Industry Just Dodged a Big Bullet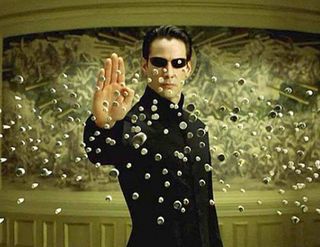 Viacom managed to pull a rabbit out of its hat Thursday (April 21), landing a multi-year renewal with Dish Network that seems to give both sides what they wanted – a reasonable rate increase for the programmer and OTT rights for several Viacom networks for Dish's Sling TV service. But while Viacom shareholders breathed a sigh of relief over landing the deal – uncertainty over Dish carriage has been a major albatross for the stock for months – the rest of the content industry also should be able to exhale. According to reports and people familiar with the matter, Viacom was able to extract mid-single-digit percentage rate increases from Dish, although the actual structure of the deal isn't known. And Dish is finally able to carry Viacom's youth-oriented channels on its millennial-focused Sling TV OTT service, which should help expand that product's popularity.
The simple fact that Viacom was able to secure a deal at terms that frankly appear to be well above what many industry pundits thought were beyond the realm of possibility at a time when it was most vulnerable, is frankly amazing. Some analysts have said privately they believed that a best case scenario would have been maintaining the old rate. Viacom's stock has been hammered over the past two years – prior to the Dish deal, it was down nearly 60% since 2014 – as declining ratings and the threat of cord cutting and cord shaving have eroded pay TV's subscriber base. Viacom management has been taken to task by activist investors who claim they haven't a clue how to run cable networks and are more concerned with siphoning big paydays from the struggling company.
After the Dish deal, Viacom shares, which were down about 3.4% this year, crossed into positive territory at $42.56 each. On Friday, the stock was trading in the $44 range.
On the other side, Viacom says its successes have been overlooked – it has secured several carriage deals over the past two years with companies like AT&T, Charter Communications, Frontier Communications, Mediacom Communications and several smaller regional distributors with a total of more than 44 million subscribers.
"In 2017 and beyond, these deals will drive Viacom's annual affiliate fee growth with our traditional distribution partners at solid mid-single-digit rates," Viacom said in a statement.
That is key, because it puts the company at the high end of previous guidance of low-to-mid-single digit affiliate fee growth. And already some analysts are taking notice.
Shortly after the Dish deal was announced, Credit Suisse media analyst Omar Sheikh raised his 12-month price target on Viacom stock to $55 per share from $50, adding in a note to clients that with more visibility on fees, rising ad rates and the cash it could get from a planned sale of an interest in its Paramount movie studio, "we see the potential for a material expansion in Viacom's multiple from current distressed levels."
Looking at the bigger picture, many analysts were looking to the outcome of this deal as being either the beginning of the end or the end of the beginning for pay TV networks. For Viacom, losing Dish would have been a major blow in that it would have likely led to much tougher negotiations with other distributors. The implications for other programmers could have been similarly dire – if the one group of channels catering to the most sought after audience segment for advertisers can't secure big enough rate increases, who can?
Other networks are feeling ratings pressure, too as viewing habits shift and if a major programmer like Viacom were to fall, it could embolden distributors to take a harder stand and even risk a prolonged or permanent blackout of channels.
Dish wasn't without vulnerability either. As it moves toward being a "connectivity company" in chairman and CEO Charlie Ergen's words, it has been bleeding satellite TV subscribers. The risk of losing even more in a prolonged Viacom blackout may have been too great.
One small cable operator I talked to shortly after the deal was done said there was really no doubt that Dish would sign an agreement.
"Charlie has to have the content," the operator said, adding that if Dish permanently dropped Viacom, competitors would benefit in both lower future programming costs and having the content Dish didn't.
But that operator also pointed to the 50-60 small cable companies that have already dropped Viacom channels – including Cable One and Suddenlink Communications. The operator said when Viacom's next renewal cycle starts, more smaller ops are likely to follow suit.
Somewhat surprisingly, the operator, who asked not to be named, said that online viewing is giving distributors insight into consumer habits that they hadn't had access to before.
"We're beginning to see better what people care about more and what we can do without," the operator said.
There have been big carriage fights, dating back to Cox Communications' 2003 scuffle with ESPN that led to a moderation in annual rate increases. Some have backfired for the operators – Time Warner Cable's decision to darken CBS stations in several big markets in 2013 led to their largest-ever quarterly subscriber loss and helped send them into a tailspin that made them an acquisition target.
In a blog posting Friday, MoffettNathanson said the Dish renewal "reflects the fact that distributors don't really want to disrupt their customers' product offering and that content companies don't want to lose distribution. Again, the dynamic of this particular resolution may be never be known, but today's agreement throws cold water on the idea that Viacom's channels have lost their value."
Viacom is by no means out of the water yet – it still has a lot of issues to resolve. But getting the Dish deal done gives the time to address them more fully.
"Viacom continues to face challenges from shifting consumption of children's video content to new platforms; a portfolio of network brands which is arguably too large; and an underperforming studio. None will be easy to fix, but the Dish renewal now gives the management team the space to address these complex problems," Sheikh wrote.
Thank you for signing up to Multichannel News. You will receive a verification email shortly.
There was a problem. Please refresh the page and try again.