Comcast's 'Stream' Won't Be OTT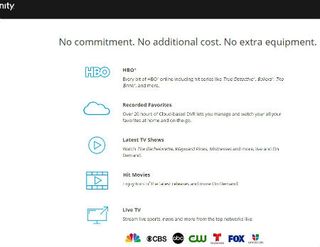 Stream, Comcast's coming $15 per month streaming TV service that will launch first in Boston, shares some similarities with the service that was created by the now-defunct Aereo – it'll provide access (in the home, anyway) to major broadcast TV channels and a cloud DVR. On top of that, Stream subs will also get HBO, authenticated TV Everywhere access to some networks, and Streampix, the MSO's Netflix-like premium multiscreen VOD service.
But it's different in many ways, too, as Comcast will initially require Stream customers to pair it with a broadband service from MSO, and won't offer Stream on native connected-TV platforms like Roku streaming players. And, unlike Aereo, there's no over-the-air TV antenna arrays to speak of.
As for the competitive implications, there's no indication (yet) that Comcast will go nuclear with this and sell Stream outside its traditional cable footprint and compete directly for video subs with other MSOs.Whether Comcast has the rights to do so...that's another matter entirely.
And there's sure lots confusion about how Stream will be delivered into the home, with plenty of stories labeling Stream an OTT service, when it's really not…at least if you consider, like most do, that OTT means distribution over the public Internet.
Instead, Stream will come into the home through Comcast's managed IP network, meaning it will be streamed on separately provisioned bandwidth that doesn't intermingle with that used for the MSO's high-speed Internet service, and likewise won't be subject to the usage-based data policies that Comcast is still testing in a few markets. Stream still requires a cable modem for the IP connectivity (DOCSIS 3.0 modems allow operators to configure the tuners so that some can be used for high-speed Internet service while setting others aside for managed IP services).
One exception will be the TVE apps that Stream will support out-of-the-home (those will require an Internet or cellular connection, of course), but in many ways, the in-home approach is akin to AT&T U-verse, which dedicates some capacity for the managed IPTV service, and other capacity for its Internet service.
It also matches up from a delivery standpoint with the in-home delivery of the Xfinity TV app for X1 offered on browsers, smartphones and tablets; and the Xfinity TV (VOD-only) app that treats the Xbox 360 like another set-top box. All of that streamed content stays separate from HSD.
And it's an approach that's not without some controversy, as some might recall that Netflix compained about the app for the Xbox 360 back in 2012, believing that it violated what were then FCC's network neutrality rules. The new rules, which view broadband as a Title II service, allow for this sort of specialized service and such practices will be monitored by the Commission on how it affects online video competition, but the expectation is that the approach will at least garner plenty of attention.
"While Comcast does not appear to be doing anything wrong vis-a-vis the new Open Internet Order, given the increasing scrutiny by the FCC and DoJ, this could give regulators even more to dislike about the cable industry," BTIG Research analyst Richard Greenfield noted in this blog post (registration required).
The bigger question in the near term is how well Stream will resonate with the market the service appears to be drawing to -- cord-cutters, cord-nevers and other consumers who are steering clear of big bundles.
Will it cannibalize Comcast's pay TV base? Probably not to a significant degree, given the service's inherent limitations (no native support for TV-connected platforms coupled wiht a small lineup). It better cast as a save tactic that can keep customers on a pay TV service while also luring some new customers to the mix.
"We have a hard time believing Comcast would use Stream as a loss-leader to sell, high-priced (high-margin) standalone broadband as they still fundamentally believe in the video business (just think about their excitement over the X1 platform)," Greenfield wrote. "We suspect Comcast has exceeded the threshold for HBO subscribers they are required to pay HBO on, in turn, additional HBO subscribers are coming on at no-cost to Comcast (at least, as Richard Plepler says until their current contract comes up) – what HBO calls non-revenue generating subscribers. If our assumption about the subscriber threshold is correct, Stream could be exceedingly profitable for Comcast on its own, let alone when it is tied to high-priced standalone broadband."
Still, it's too early to know if Stream will have much of an consumer impact (it hasn't even launched yet). But, perhaps, more importantly, it's represents another weapon that Comcast can wield as it moves ahead with a bigger IP video transition that is touching not only its primary next-gen video service ( X1), but to new products that can be tailored for different segments of the market, including college students (with Xfinity on Campus), as well as others in the hard-to-reach millennials group and others in the small but growing cord-cutter/cord-nevers segment.
If Stream doesn't resonate, Comcast can simply pull it back and assemble other packages and services that fit with its distribution rights. These are rapidly becoming business, rather than technology-facing, decisions.
The smarter way to stay on top of the multichannel video marketplace. Sign up below.