#CableInTheCommunity: The Dog Days of Summer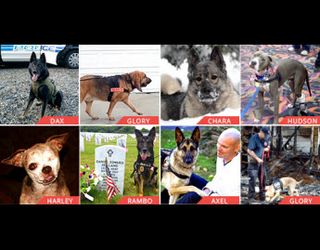 Voting began this week to select the American Humane Association's American Hero Dog for 2015 after 1 million online votes winnowed a field of about 170 courageous canines down to eight finalists this spring.
The finalists will be featured in a Hallmark Channel special this fall; Hallmark has been a sponsor of the event since it launched in 2011.
Each of the eight dogs has an animal-related charity partner that was awarded $2,500; the winner's charity will also receive an additional $5,000.
You can vote for your favorite four-legged finalist once a day through Sept. 7 to help choose this year's Hero Dog. The winner will be announced at a red carpet gala for the finalists on Sept. 19 (which Hallmark Channel will cover in its special).
If you can read the stories of these eight dogs without feeling compelled to cast a vote, well, more power to ya. From a puppy mill dog that lived in a cage until it was 10 years old and then became an effective "spokesdog" for animal rescue to the "battle buddy" who helps a veteran suffering from PTSD manage his daily life, they all surprise and inspire. Check them out -- and vote -- at www.HeroDogAwards.org.
Following is the American Humane Association's descriptions of the eight finalists, listed by category. The Lois Pope LIFE Foundation is the initiative's presenting sponsor.
Arson Dogs: Glory (Charity Partner: Project Paws Alive; Sponsor: State Farm)
Glory, Evansville, Wisc., is a certified accelerant detection canine, trained to sniff out minute traces of hydrocarbon-based accelerants and combat the growing problem of intentionally set fires. While her team does the majority of their work around their home base in Beloit, Wisc., they are also called to investigate fires anywhere within the state, neighboring states and around the country. According to her team, Glory's keen senses go far beyond detecting accelerants. With firefighters and paramedics dealing with situations that affect them emotionally, she has the ability to sense who is having a rough day and will spend time with them, which helps relieve their stress. Public education is also a large part of the job, and Glory and her handler visit schools, clubs, and organizations, to teach people about fire safety, fire prevention, and arson awareness.
Emerging Hero Dogs: Harley (Charity Partner: New Leash on Life; Sponsor: Merial)
Harley, Berthoud, Colo., spent 10 years living in a small cage in a puppy mill before he was rescued and found a loving home. His journey of physical and emotional healing inspired a campaign called "Harley to the Rescue," which has raised the funds to save (and provide medical care for) more than 500 dogs from puppy mills over the past two years. Harley personally goes on these rescue missions; and there is no doubt Harley is keenly aware of what is happening! There is something indescribable in the way he communicates with the sad and scared dogs. As a spokes-dog against puppy mills, Harley has educated thousands of people, of all ages, about the horrors of the commercial dog breeding industry. Harley makes public appearances at events and schools where he gladly accepts love and attention from everyone. Harley's grizzled appearance is a testament to the care and nurturing that he had never received. He had issues: a diseased heart, a mouth filled with rot, a fused spine, a broken tail, gnarled toes, and legs that were deformed. And then there is the missing eye as the result of his cage being power-washed with him in it (an all too common practice in puppy mills). All of these conditions were the result of years of horrendous neglect and abuse. Harley is a voice for the thousands of breeding dogs still living in puppy mills, and by winning the Emerging Hero Dog Award it will draw attention to help further his mission.
Guide/Hearing Dogs: Chara (Charity Partner: Guide Dog Users Inc.)
Chara, Waynesboro, Va., was originally trained as a signal service dog. However, due to a work accident in 2008, her handler developed a neurological condition known as Reflex Sympathetic Dystrophy type II with Dystonia. Thanks to the bond between handler and dog, Chara has trained herself to depict impending myoclonic dystonic attacks (15-45 minutes before episodes). This newfound "alerting" skill was formed not just with her handler. Two weeks after her handler gave birth to her son, he developed a severe cold. Unknown to his mom (who is also hearing impaired), he stopped breathing. Chara alerted her that something was terribly wrong and if it was not for her quick response and love for her newest pack member, the boy would have succumbed to a condition known as SIDS. Chara has gone beyond her original skills of hearing dog and is now considered by her family to be their furry guardian angel who watches over everyone and everything.
Law Enforcement Dogs: Dax (Charity Partner: K9s4COPS)
Dax, Ashland, Mass., saved his human partner, Officer Chris Alberini, from being shot by climbing into an attic where a suspect was hiding with a shotgun. On July 2, 2013 the team was called to assist in the search for the suspect, who had an active arrest warrant. Officer Alberini called into the house the suspect had entered and told him to come out or he would send in Dax. When no one responded, they started to search the house. Dax found a ceiling hatch leading to an attic and alerted his companion, who yelled up to the suspect to come down. The man did not respond. Officer Alberini hoisted Dax into the attic, where he bit the suspect's leg. Officer Alberini followed, carrying a flashlight and found Dax fighting with the suspect. When the man started reaching for a shotgun by his left side, Officer Alberini began fighting for the weapon and then drew his service weapon and shot the suspect twice. The man would have likely fired at Officer Alberini immediately if Dax had not gone into the attic first. Investigators later learned that the suspect had texted his attorney and girlfriend about killing police.
Military Dogs: Rambo (Charity Partner: America's VetDogs, the Veteran's K-9 Corps; Sponsor: Zoetis RIMADYL K-9 Courage Program®)
Rambo, Converse, Texas (also known as Sgt. Rambo), served in the Marine Corps from January 2011-April 2012 as an explosive detection MWD based out of Cherry Point, N.C. While on active duty, Rambo conducted 994 hours of training and 622 missions on base and in his local community. Rambo was medically retired due to a left shoulder injury and in November 2012 had to have that limb amputated. Rambo has gone on to be Alamo Honor Flight's mascot, accompanying countless World War II veterans to Washington, D.C., and even having the honor of meeting Senator and Mrs. Bob Dole, serving as the official ambassador for the Canine Members of the Armed Forces Act, and attending press conferences with both Congressman Walter Jones of North Carolina and Senator Richard Blumenthal of Connecticut. Rambo is currently the mascot for Gizmo's Gift, a Texas nonprofit that offers financial support to families who adopt a retired working dog. While visiting local nursing homes he is able to bring love and life to the residents who suffer with dementia. He visits youth groups during the summer and brings hope to children with special needs.
Search and Rescue Dogs: Glory (Charity Partner: National Search Dog Alliance)
Glory, Sun Valley, Calif., is an eight-year-old Bloodhound who has been trained and certified to track lost pets. During her long and successful career, she has helped bring closure to hundreds of families. Glory works in extreme temperatures and under difficult conditions and is devoted to her work, as several relieved pet owners can attest: "We were terrified," said Stephanie, the owner of a lost cat, Pistol. "Pistol was gone from our front yard and we had no idea where to look. When Glory led to the freeway and wanted to cross, I couldn't believe it. But Glory was right, and we had Pistol back that same afternoon – Pistol had crossed the 101 freeway and was right across from where Glory indicated." "How does one even put words to an experience of knowing we may never have seen Paisley again?" said the owner of a Yorkshire lost for three days. "Without Glory's devotion to her work, we wouldn't be sitting here with Paisley tonight." "When I received the devastating news Goldie was missing, I spent six nights walking through the area and calling into a megaphone, put up 300 posters and offered a $1,000 reward," said Derek, the owner of a lost Pomeranian. "Goldie was lost 60 miles away with no food or water – it was more than my family could bear. Our hearts were broken. At nine days missing Glory found Goldie alive under crates in an outdoor factory."
Service Dogs: Axel (Charity Partner: Dogs on Deployment; Sponsor: Modern Dog magazine)
Axel, Fredericksburg, Va., three years ago changed the day-to-day life of retired Marines Captain Jason Haag. In 2010, Captain Haag was diagnosed with post-traumatic stress and traumatic brain injury after returning from two combat tours in the Middle East. When he finally made it home, he was in a constant state of severe depression and mental agony. He struggled with alcohol abuse and took more than 30 medications to deal with his debilitating symptoms. In 2012, his wife urged him to reach out to K9s for Warriors, an organization that provides veterans with service canines, which is how he met who he calls his "lifesaver," a German shepherd named Axel. On deployment, every soldier is paired up with a battle buddy, and these days his battle buddy is not another Marine, but Axel. Day in and day out, Axel is by his side, ensuring that he is in a constant state of peace and not fear. Sometimes all it takes is a little nudge from Axel to remind him that he is out of the combat zone. Other times, Axel goes into full activation mode, using his training to remove Captain Haag from an environment when a severe panic attack has begun. When he met Axel, the dog was one week away from being put down, sleeping on a shelter floor while Captain Haag was sleeping in his basement with a gun under his pillow. Now Captain Haag shares a bed with his "big, furry security blanket."
Therapy Dogs: Hudson the Railroad Puppy (Charity Partner: Hand in Paw)
Hudson, Castleton, N.Y., at just three weeks old, was found with two of his siblings nailed to the railroad tracks in Albany, N.Y., and his paw had been cut off. After lifesaving treatment for Hudson and Pearl (sadly, their sister Carina did not make it) they became known as the "Railroad Puppies." After several surgeries it was decided that Hudson was a great candidate for a prosthetic limb, and he became one of the first dogs in New York State to be fitted with a prosthetic paw. After being adopted, Hudson's family knew he was special, and could do great things and spread awareness about animal cruelty; they had him trained to be a therapy dog. Now he visits schools, hospitals and adult day care facilities. Hudson and his humans are also now hospice volunteers, visiting with patients and their families. The team teaches children and everyone they meet that just because you are different, you are still special in your own "Wooftastic" way. Hudson the Railroad Puppy brings smiles to everyone he meets and is changing hearts and minds about the pit bull breed one person at a time.
Weekly digest of streaming and OTT industry news
Thank you for signing up to Multichannel News. You will receive a verification email shortly.
There was a problem. Please refresh the page and try again.