Cable Pauses To Remember Maya Angelou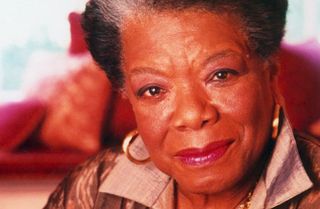 Cable executives Wednesday reacted to the death of iconic poet, author, activist and actress Maya Angelou.
Angelou, who died Wednesday at her Winston-Salem, N.C. home, was praised not only for her beautiful and inspiring poetry, but also for her work as a civil rights activist, singer, dancer and actress. During a keynote address at the 2008 WICT Leadership Conference in New York, Angelou served as a mentor and a friend to the industry with her inspiring poems and talk of her own personal journey from childhood abuse, poverty, and segregation to worlwide acclaim.
"I want to encourage you to be of courage, because without courage you can't practice any other virtue," she told the WICT attendees. "I don't mean dangerously courageous, like putting your head into the lion's mouth, but be wise and be courageous."
In 2012 BET honored Angelou with its BET Honors award. BET CEO Debra Lee said Wednesday that Angelou's light "will always shine through her extraordinary contributions to the arts and to the very fabric of American culture. She was an icon in literature, an influential voice in civil rights, and an innovator throughout her life. Through her 86 years, she personified resilience, wisdom and intelligence. She had the courage to confront issues of identity, family and race – and the compassion to create characters that resonated with every American. Her words have inspired Presidents and transcended cultures."
OWN TV CEO Oprah Winfrey said of Angelou: "I've been blessed to have Maya Angelou as my mentor, mother/sister, and friend since my 20's. She was there for me always, guiding me through some of the most important years of my life. The world knows her as a poet but at the heart of her, she was a teacher. 'When you learn, teach. When you get, give' is one of my best lessons from her. She moved through the world with unshakeable calm, confidence and a fierce grace. I loved her and I know she loved me. I will profoundly miss her. She will always be the rainbow in my clouds."
TV One said Angelou's profound body of work "will cause hearts and spirits to `rise' for generations to come. Rest in peace Dr. Angelou."
The smarter way to stay on top of the multichannel video marketplace. Sign up below.
Thank you for signing up to Multichannel News. You will receive a verification email shortly.
There was a problem. Please refresh the page and try again.