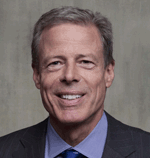 Although it was overshadowed by the news that its Home Box Office unit would launch an over the top service next year, Time Warner chairman and CEO Jeff Bewkes managed to drive home a simple message at the media conglomerate's investor day Wednesday: "Just don't worry."
He was joking when he said it, but there is a grain of truth in that statement, made as Time Warner's investor day meeting drew to a close. For about four hours at its Manhattan headquarters Bewkes and his top executives – Turner Broadcasting System chairman and CEO John Martin, HBO chairman and CEO Richard Pepler, Warner Bros. Entertainment chairman and CEO Kevin Tsujihara and chief financial officer Howard Averill walked shareholders and analysts through a series of presentations geared toward calming their fears of the present and giving them hope for the future.
Bewkes started off the meeting by reminding investors of the past – Time Warner has grown earnings per share at a faster pace in the past five years than the S&P 500 Index and since 2009 has returned $25 billion in dividends and stock buybacks to shareholders while investing $75 billion in the business – and showing them a glimpse of the future – he pledged that EPS would double over the next several years.
Bewkes has been under pressure to show that Time Warner can stand on its own since his board rejected 21st Century Fox's $80 billion unsolicited offer back in July. While he and the rest of his team have a ways to go before they can definitively prove that, the meeting seemed to show that the company was at least paying attention and is making moves to right the ship.
At Turner, which has been rocked by poor ratings and a sense that its steady stream of Big Bang Theory reruns aren't resonating with viewers anymore, Martin said that the programmer will double its original programming budget to $1 billion annually by 2018. That, coupled with a streamlining and cost efficiency program dubbed Turner 2020 – which will involve laying off nearly 1,500 workers – will put the programmer back on track.
On the ratings front, Martin blamed some of the softness on broadband-only homes being included in the ratings mix, increased video on demand usage and a rise in online and mobile viewing. For example, Martin said that Turner's The Last Ship, a ratings hit over the summer, saw a recent decline as viewers began catching up with the series on VOD. Online, PC and mobile viewing also increased in the period, which affected TV ratings.
"We're working hard with Nielsen," Martin said adding that he was confident that any ratings measurement issues could be cleared up.
Martin also pledged to step up consumer products sales, licensing and merchandising on the kids' front. He noted that Turner derives about 5% of total kids' revenue from consumer products, licensing and merchandising , while other similar channels get more than half their revenue from those sources. Martin said Turner will take a collaborative approach – its Boomerang channel for instance will be the flanker network around the world for Cartoon Network. And he said Turner and Warner Bros., owners of such iconic brands as Looney Tunes, will approach the kids market as one company.
"We're making a concerted effort on building global franchises with global characters," Martin said.
While Plepler's announcement that HBO will go over the top next year took most of the attention, he added that HBO and sister premium channel Cinemax are having their best year in more than a decade – the 2.5 million subscriber added so far this year are putting the channels on their biggest growth path in 18 years.
Warner Bros. chief Tsujihara outlined new movie slates heavy with DC comic book characters – The Justice League, Aquaman, Shazam, the Flash, Green Lantern and Wonder Woman all will headline their own films between 2017 and 2020 – and three movies between 2016 and 2020 from Harry Potter author J.K. Rowling's Fantastic Beasts series.
Investors seemed pleased – the stock was up about 4% in early trading and closed at $72.21 each, up 2.2% on a day when the Dow dropped 400 points earlier in the day – it too rebounded later in the day to close down about 173 points. Now it's up to shareholders to decide whether there is reason to worry or not.
The smarter way to stay on top of the multichannel video marketplace. Sign up below.