Arris Pushes Back D3.1 Modem Launch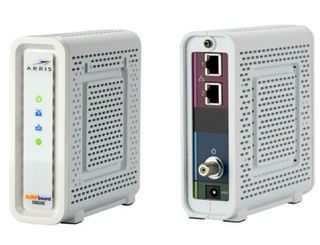 The retail availability of the first batch of DOCSIS 3.1 modems continues to be a bit of a moving target.
After it initially hoped to start selling its first DOCSIS 3.1 modem at retail by the end of 2016, Arris confirmed that it now expects to spark sales of the device, the SB8200, by "early 2017."
Pricing and initial availability for the SB8200 (pictured above), a device that secured CableLabs certification earlier this year, have not yet been announced.
Retail availability of Netgear's first D3.1 product, the CM1000, has also been shifting around. Per its latest listing on Amazon, the CM1000 will be back in stock on Jan. 5, 2017. It sells for $179.99.
RELATED: Netgear Hatching More DOCSIS 3.1 Retail Efforts
According to the Netgear user forum, some customers have reported trouble activating the CM1000 amid a required firmware update. Per the DSL Reports forum, there's also a purported compatibility problems with the Cisco Systems cBR-8 converged cable access platform (CCAP).
Both Comcast and Cox Communications have given the green light to the CM1000.
Weekly digest of streaming and OTT industry news
Thank you for signing up to Multichannel News. You will receive a verification email shortly.
There was a problem. Please refresh the page and try again.