Apple's New TV Pursuit Is An All-Seeing, All-Knowing Guide: Report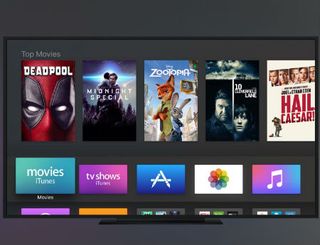 Having run into a brick wall trying to build an OTT-TV service with national reach and access to local broadcast TV feeds, Apple is now working on a new "digital TV guide" for Apple TV boxes and other Apple devices that would service as a smart aggregation point for other video and TV apps, Recode reported.
The idea, Recode said, is to help users search and access what's on from individual programmers and MVPDs without having to open up the individual apps.
In many respects, this sounds a lot like what Roku is already doing with its interface/streaming platform via a universal search function that can currently pull app data from more than 50 sources, including ABC, Comedy Central, Crackle, Disney Channel, Google Play, HBO Go, Tubi TV, Netflix, Vudu, and even the TWC TV app (now part of Charter). Expect Comcast's Xfinity TV app to join that mix as it moves ahead with an integration deal with Roku.
Word of Apple's new angle emerges after the CE giant failed to cut the deal needed to build its own national pay TV service in large part because programmers and broadcasters balked at Apple's demands and assertive negotiating style, according to The Wall Street Journal.
"Apple just wants too much," an industry source familiar with those discussions told me last year.
According to Recode, the current plans also stem from a new single sign-on (SSO) authentication system for TVE apps that Apple will be making available on the Apple TV as well as iOS-powered smartphones and tablets. Adobe and Synacor, which provide authentication systems for programmers and MVPDs, have already announced they are getting behind Apple's SSO initiative.
Apple, the report said, has been in talks with programmers about obtaining the metadata needed to build the new guide.
Apple CEO Tim Cook cropped some hints about the company's TV plans on last month's fiscal Q3 call.
"Theintroduction of Apple TV and tvOS last Octoberand the subsequent OS releases and what's coming out this fall…think of that as sort of building the foundation for what we believe can be a broader business over time," Cook said. "But you shouldn't look at what's there today and think we've done what we want to do."
Additionally, Apple's Eddy Cue, in an interview withThe Hollywood Reporter, chatted up Apple TV's ability to stream content from other distributors and tossed cold water on skinny bundles.
The smarter way to stay on top of the multichannel video marketplace. Sign up below.