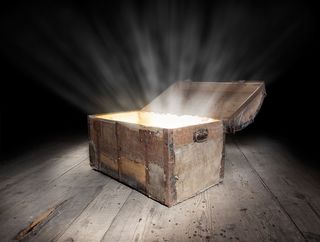 You can probably pack a potential mega deal between Verizon and The Walt Disney Co. along with all the other wished-for-but-never-realized mergers gathering dust in your media Hope Chest. But don't throw away the key just yet.
Fox Business Network got a chance to shout out a question to Verizon CEO Lowell McAdam from behind the barriers at the Allen& Co. summit in Sun Valley, Idaho, Wednesday asking the phone company chief if he was pursing a deal to buy the Walt Disney Co., to which he simply responded, "No."
The Allen conference is the annual retreat for media giants and has been a veritable petri dish for some of the biggest deals in the space – Disney CEO Michael Eisner hatched the plan to buy Cap Cities ABC after bumping into Warren Buffett, who was on his way to the golf tees at the conference, in 1995. Other big deals that reportedly sprung from seeds planted at the conference include Comcast- NBC Universal and Amazon's purchase of the Washington Post. And this year the attendees list is chock full of more traditional media and digital media moguls like 21st Century Fox's Lachlan and James Murdoch, Facebook CEO Mark Zuckerberg, Discovery Communications CEO David Zaslav, Buffett and Apple CEO Tim Cook. Jared Kushner and Ivanka Trump were also rumored to be planning to attend, although that could have changed in light of the most recent White House scandal.
Verizon has been linked with other possible suitors over the past several months – reports have had it eyeing Comcast, Charter, Disney and even CBS, none of which has come to fruition. The frenzy around the telco is obviously fueled by AT&T's proposal to buy Time Warner Inc. for about $108.7 billion in stock, cash and assumed debt. The industry, always abhorring a vacuum, has actively wondered why Verizon hasn't tried to do the same.
There is an argument that with traditional TV viewing being turned on its ear by over-the-top players and skinny bundles, distributors have to buy content. The problem is, most of the good content is locked up in giant conglomerates like Time Warner, 21st Century Fox and Disney. Any deals would have to be huge – some estimate that buying Disney would cost Verizon at least $190 billion, which is well above Verizon's current market cap of about $174 billion.
I was never convinced that Verizon was seriously pursuing any of the companies it was rumored to for the simple reason that Verizon wouldn't add much to the mix. As far as cable operators go, aside from a wireless network, Verizon wouldn't bring much to the table. Fox presents problems with ownership – the Murdoch family doesn't seem too hot to get out of the media business just yet -- and Disney would cost too much. Verizon hasn't been deal-shy – it purchased Yahoo and AOL in the past two years – it's just been thrifty. The Yahoo deal is costing about $4.5 billion, just slightly more than the $4 billion Verizon paid for AOL in 2015. The leap to a nearly $200 billion territory is pretty steep. Not that they couldn't do it – put enough accountant and lawyers in a room and they can hammer out practically anything – but I just don't see a desire to bet the company just yet.
But as Fox Business reporter Charlie Gasparino said in his report, just because Verizon doesn't seem to want Disney doesn't mean no one else is clearing space in its Hope Chest for the asset. He pointed to a previous Allen conference where the speculation was that Fox would buy Time Warner, which never came to be (albeit not without Fox trying hard to make a deal happen). But that speculation put Time Warner in play, and it eventually agreed to a deal with AT&T. Whether that gets approval from a Presidential administration that literally fantasizes about body-slamming CNN, Time Warner's flagship news network, remains to be seen.
But like Time Warner, Gasparino believes that Disney is now in play, and there could be a handful of deep-pocketed suitors trying to justify a deal. Amazon, Google, Facebook, Apple all have been named as potentially interested in Disney's vast content assets.
"I think there is a good chance Disney is in play," Gasparino said in his report.
But whatever happens, there is one thing that any potential suitor has to remember: The TV business is hard. It may look simple – just throw a bunch of money at some creative types, make some shows and grab a big bucket to catch the torrent of profits that will inevitably flow. But anybody who has actually played in the space knows it is much different than that. Successful TV executives are a sometimes-otherworldly mix of creative genius, financial maven and just plain lucky stiff. And that hope chest can just as quickly turn into a Pandora's Box for the unprepared and unsuspecting media suitor. The back lots of content companies are littered with the carcasses of executives from inside and outside the business who learned that lesson the hard way.
The smarter way to stay on top of the multichannel video marketplace. Sign up below.