Another Look at The Cable Guy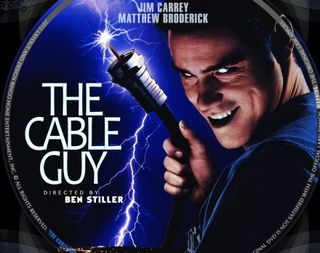 Today (June 14) is the 20th anniversary of the release of what at the time was thought to be actor/comedian Jim Carrey's biggest flop, and a movie that was universally hated in the cable community – The Cable Guy. But I come not to praise the movie – although I do have a bit of a soft spot for a certain scene. Instead my aim is to point out that its obvious stereotypes of cable installers nothwithstanding, the movie is a bit misunderstood.
I'm not the only one who thinks so. The Cable Guy came after what was a remarkable one-year box office run for Carrey – Ace Ventura: Pet Detective, The Mask and Dumb and Dumber came out in quick succession in 1994, transforming him from TV comedy actor to movie star. The next year he played The Riddler in the biggest box office hit that year, Batman Forever.
Taking on The Cable Guy was a bit of a risk for Carrey – the character was a lot darker than he was used to and the role wasn't a starring one. And despite being directed by Ben Stiller (in just his second movie) and produced by a young Judd Apatow – who both went on to much bigger things – The Cable Guy was considered a flop.
In a review Tuesday on avclub.com, A.A. Dowd pointed out that the movie actually wasn't the disaster most remember it as – something I cannot say about Freddy Got Fingered. According to Dowd's article, The Cable Guy ended up raking in twice its $47 million budget (when international box office is included) and reviews were mixed at worst, not universally despised.
But according to Dowd – and this is the whole point of this blog – Cable Guy wasn't a flop it just "took on the reputation of a flop."
There you go. Cable Guy wasn't so bad; it's just that everybody thinks it is. I think there are some obvious parallels to the cable industry.
Take customer service. I'm not saying there isn't room for improvement but if the industry truly was as bad as it appears to be in customer service surveys, it wouldn't have lasted a month. Sure there is the argument that for a long time cable was the only pay TV game in town, but that hasn't been the case for decades. And cable has managed to pull out of all of its past death spirals caused by satellite TV and telco TV, improving losses and even adding video customers in the past year. And it probably will do the same with the latest threat – over-the-top.
High-speed data growth continues to outpace the competition and cable operator consistently place higher in broadband customer surveys. Pretty ironic since they both travel over the same network and use a lot of the same customer service personnel.
Charter Communications chairman and CEO Tom Rutledge, who last month became the head of the second largest cable operator and the third largest multichannel video service provider in the country, has a stellar customer service reputation. As chief operating officer of Cablevision Systems, he helped reverse that operator's once dismal customer service rep. At Charter, he has worked hard to bring customer service in house, taking transactions out of the business and giving customers more opportunities to solve their own service problems remotely. At Comcast, the country's largest cable company, has been building call centers and retail stores, compressing appointment windows and guaranteeing on-time service.
The point of all of this is that cable obviously has a long way to go, but it is making progress. Let's hope that in another 20 years, the cable industry outpaces The Cable Guy, and reality overtakes reputation, for the better.
The smarter way to stay on top of the multichannel video marketplace. Sign up below.
Thank you for signing up to Multichannel News. You will receive a verification email shortly.
There was a problem. Please refresh the page and try again.