A+E Shines a Light on Race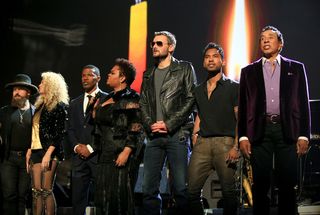 A+E Networks tonight (Nov. 20) will simulcast its `Shining A Light: A Concert For Progress On Race In America' across several networks including A&E, Lifetime and History. The fundraising concert -- created to bring awareness to recent incidents of racism such as the June Charleston S.C. church massacre as well as to raise funds for the victims of such incidents -- features performances from Pharrell Williams, John Legend, Pink, Bruce Springsteen, Smokey Robinson and Sting.
I had a chance to speak to A&E and Lifetime executive vice president and general manager Rob Sharenow about the origins of the concert as well as the company's ongoing efforts to deal with the subject of race beyond the event. An edited version of the interview appears below.
R. Thomas Umstead: How did the Shinning A Light concert come about?
Rob Sharenow: It started with [A&E and History senior vice president of publicity] Dan Silberman in the wake of the Charleston tragedy. He was very horrified by the tragedy so he sent me an e-mail asking if there was something we could do here. We came up with the idea of a benefit concert to get the message out and raise awareness of this horrible situation in our country.
It started to steamroll from there -- Ken Ehrlich came on board to produce, and Pharrell Williams and John Legend jumped in early. I think the idea really evolved from what was initially thought would be a concert into something that is quite unique. There will be musical performances, but there's also been community outreach where artists go directly to the communities that have been most effective by racial violence and injustice. Those stories and performances will be interwoven into the concert. We needed the event to feel like it was a real engagement into the issue in a meaningful way – it's not like the artists come on, do their hit song and then walk off.
RTU: Given the recent terrorist attacks in Paris, does the concert take on even greater significance in discussing tolerance and peace?
RS: Yes, I think the message of tolerance and unity and love are even more significant now. While our show is very specifically focused on the progress on race in America, that issue harmonizes with the kind of intolerance we're seeing all over the world. But most of what you're going to see and hear about is really what's going on in our communities and trying to align and unify in a better way on that issue.
RTU: Did you have any concerns or hesitation about going forward with the event?
RS: Talking about race is uncomfortable – it's not an easy thing for people to talk about. I think every conversation has been kind of challenging in a good way because people don't talk about it. I'm not going to lie to you and say every conversation on all levels has been easy because it hasn't been. I think a lot of people want to run from the conversation, but the response from the artists was amazing – it was almost instantaneous, and the level of performers is mind boggling.
RTU: What are your expectations for the concert and how would you measure success for the event?
RS: I know it's odd to say this but I feel like it's already a success because you're going to see something extraordinary for the right reasons. A+E has legacy of being an arts programmer, and I think great art stands for something and isn't afraid to do so. This is something that gives voice to something pretty profound, so in a way I'm already declaring this mission accomplished because it's come together in a way that I never expected it to. The message and artistry is there, and that's what I really cared about.
This is not something I'm going to put a ratings expectation against because it really isn't about that. This is something where I think the message and the artistry come first, and I already feel an incredible sense of pride and satisfaction for what we've already been able to put together.
RTU: Will there be any follow-up to the concert?
RS: Yes. We're definitely talking to Pharrell and some of the people involved about how we can keep it going. We definitely felt like the local community level involvement was profound and powerful. I think we will try and explore how to keep the message up of Shining The Light alive in that kind of way. We don't have any concrete plans to announce but it's certainly something that we're all talking about because there is such a spirit here that we don't want to waste – we want to keep the conversation going.
Weekly digest of streaming and OTT industry news
Thank you for signing up to Multichannel News. You will receive a verification email shortly.
There was a problem. Please refresh the page and try again.