7 Ways to Make Your Company a 'Best Place' to Work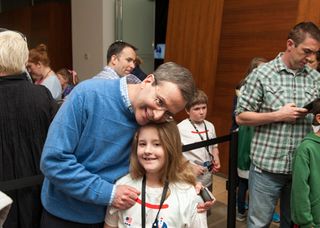 Discovery Communications has been ranked in the top 20 -- 17th place, specifically -- in a listing of Best Places to Work for New Dads by digital lifestyle website Fatherly.com, which looked at companies that are leading the way in recognizing how family structures have changed.
"More companies are waking up to the fact that the role of dad has evolved dramatically since the last generation," Fatherly.com co-founder Simon Isaacs said, noting that as millennial men become fathers, they are more engaged in raising their kids than previous generations of dads.
"Today, 59% of families with kids have two working parents, and this report reflects how companies are recognizing and adapting to the changing dynamics of traditional parenting roles," Isaacs added.
Discovery, which has more than 7.000 employees worldwide, was selected for a number of family-friendly benefits ranging from on-site child care to concierge services. It was the only cable-related company on the list.
"I'm proud to work for Discovery for a number of reasons, among which is the emphasis it places on having happy, healthy employees," said Larry Laque, a Discovery dad and EVP of global real estate and facilities. "It takes a continued, conscious effort to try to find work-life balance, and the resources that Discovery offers its employees are hugely helpful in that quest."
Here's a look at the kind of family-friendly benefits, services and resources that could put your company on one of next year's Best Places to Work lists.
1-Offer paid paternity. Discovery's dads get four weeks, a respectable middle ground among the companies on the list; at the high end, No. 2 Facebook's fathers get a whopping 17 weeks, while a number of the picks provide only one week. Another option practiced by some of the companies gives dads who are primary caregivers extra paid leave.
2-Provide on-site child care. For working parents, that means no worries about who's dropping off the baby or who's picking up the baby or how the baby's doing today. At its Silver Spring, Md., headquarters campus, Discovery's Childcare Center is at full capacity with 103 kids enrolled.
3-Provide on-site health care. As Fatherly.com noted, employees can "see doctors without taking personal days to do it." And making it easier for employees to stay healthy -- e.g., get flu shots -- has reverberating effects at work and at home. Discovery has on-site Wellness Centers at its campuses in Miami, Fla.; New York, Silver Spring; Sterling, Va.; and London. Its U.S. centers had more than 16,000 patients visits in 2014.
4-Eliminate errands. Offering on-site amenities frees up employees to get more out of their downtime. Discovery provides a wide range of personal concierge services, including dry cleaning.
5-Offer adoption subsidies. Cost is a major hurdle for parents wishing to adopt; supporting their efforts sends a strong family-friendly message. Discovery provides a $10,000 subsidy per child.
6-Champion your working care givers. This can take the form of benefits, services or even just acknowledgement. Discovery provides back-up child care and elder care services, giving employees a go-to resource when things at home go awry. It also supports a global employee resource group, the Discovery Family Forum, dedicated to working parents, with more than 200 moms and dads participating.
7-Throw a party. Discovery puts on a big to-do across its U.S. offices for Take Your Child to Work Day, hosting its own Annual Kids Day of arty, scientific, "curious fun."
The smarter way to stay on top of the multichannel video marketplace. Sign up below.
Thank you for signing up to Multichannel News. You will receive a verification email shortly.
There was a problem. Please refresh the page and try again.