52% of Online Video Is Seen on Mobile Devices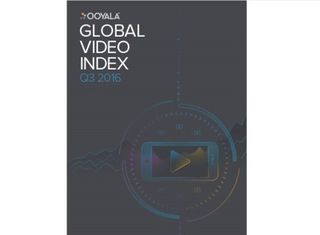 Mobile viewing now represents 52% of online video views, and consumers are watching more mid- to long-form content on any device, regardless of screen size, according to Ooyala's Third Quarter 2016 Global Video Index, published on Tuesday.
This marks the second consecutive quarter in which more than half of all online viewing was done on mobile devices, according to the video/telecom research/services firm.
Ooyala's new study adds online viewership perspective to other tracking research, such as Cisco's Visual Networking Index, which gauges infrastructure/technology deployment.
"Mobile can't be ignored," said Ooyala Principal Analyst Jim O'Neill. He cited Netflix' recent offer for offline viewing as an indicator of "just how mobile we've become and how crucial mobile devices are for all content providers."
Connected TV, active consumption
Findings suggest that TV Everywhere availability may be partially responsible for the increasing mobile access, although Ooyala's report does not specifically identify that relationship. It does conclude that, "Connected TV users consume the most, watching mid- to long-form content 97% of the time, a 73% increase since 2015."

One of the most significant findings of Ooyala's study is the wide adoption of "long-form" (movies, documentaries and other programs that run one or two hours or longer) and "mid-form" content (usually 15 or 20 minutes).

"Consumers are increasingly more comfortable watching longer content, even if on smaller screens," according to Ooyala's analysis, offering evidence that defies many older media executives' opinion about viewing on small screens. Ooyala found that smartphone users now spend 48% of their viewing time on mid- to long-form content, up more than 23% from last year; viewers on computers spend 57%, which is a 43% year-over-year increase.
In its analysis of advertisement viewing, the Ooyala report found that mobile devices delivered 44% of all broadcaster pre-roll ad impressions, the same level as ad impressions via desktop and laptop computers. Tablets delivered nearly 38% of mid-roll ad impressions for broadcasters in Q3, more than three times the number of ad impressions on smartphones (11.2%).
Since Q3 2013, mobile video views have increased more than 233%, outpacing the growing penetration rate of mobile devices globally as viewers spend more time watching video on the small screens, Ooyala said.
'Thrones' still tops most-pirated list
The report includes additional data from digital platform security provider Irdeto on how companies can combat piracy of 4K and live-sports content. According to Irdeto, the "top five pirated TV shows in Q3 were Game of Thrones [note: that's no surprise], which accounted for 13.9% of total infringements, The Flash (on The CW), Suits (on USA Network), Arrow (The CW) and Vikings (on History Channel), all of which had 4.2% to 4.7% infringement rates.
Ooyala's report also dives deeply into European sports viewing on mobile platforms. Among its findings: that viewing increases significantly after a home team victory.
"After a win against an historic rival, video plays jump more than 230% following the game," according to the analysis of viewing for a specific team. Ooyala cites this finding as "a tremendous opportunity ... to maximize fan engagement and revenue as fans flock to video for game highlights and player interviews."

Contributor Gary Arlen is known for his insights into the convergence of media, telecom, content and technology. Gary was founder/editor/publisher of Interactivity Report, TeleServices Report and other influential newsletters; he was the longtime "curmudgeon" columnist for Multichannel News as well as a regular contributor to AdMap, Washington Technology and Telecommunications Reports. He writes regularly about trends and media/marketing for the Consumer Technology Association's i3 magazine plus several blogs. Gary has taught media-focused courses on the adjunct faculties at George Mason University and American University and has guest-lectured at MIT, Harvard, UCLA, University of Southern California and Northwestern University and at countless media, marketing and technology industry events. As President of Arlen Communications LLC, he has provided analyses about the development of applications and services for entertainment, marketing and e-commerce.
Thank you for signing up to Multichannel News. You will receive a verification email shortly.
There was a problem. Please refresh the page and try again.