The 5 Most Amusing Comments From the MoffettNathanson Conference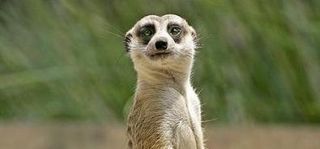 Who needs the upfronts, with their professional comedians and fancy clips and trailers? For the finance set, there was plenty of funny going on at what is becoming one of the hottest tickets among people who generally have to search for humor deep within EBITDA and OIBDA results, the MoffettNathanson Media & Communications Summit in New York.
Although not open to the media, presentations at the standing room only conference were streamed live on the Internet by most of the companies – at least the publicly traded ones – and sprinkled among the boiler plate were a few comic gems from the likes of Comcast chairman and CEO Brian Roberts, Charter Communications CEO Tom Rutledge, Time Warner Cable chairman and CEO Rob Marcus, and AMC Networks CEO Josh Sapan.
While nobody is suggesting any of this group quit their day jobs, here's a sampling of some of their more humorous asides.
Josh Sapan on his first encounter with streaming live video service Meerkat:
"I downloaded Meerkat and was pressing buttons like the old guy I am, and I kept looking up at my phone and it kept saying, 'Stiletto Supermom is live now.' I kid you not. Finally my wife looked at my phone and said 'What's with you?' Stiletto Supermom turned out to be a mother with her daughter cooking dinner. We actually decided to push the button and check out the transmission on Meerkat and it was very benign. It was, frankly, ferociously boring."
Brian Roberts on the first time he and now-NBC Universal chief Steve Burke called on former Viacom CEO Mel Karmazin to discuss a deal for the fledgling technology of On Demand:
"We were there to get 60 Minutes and Mel said, 'I'm going to put my head down on my desk and cover my eyes and count to 10 and when I'm done, I want you two guys gone.'"
Rob Marcus on whether, in light of the termination of the Comcast merger and consolidation speculation, he had any news to share:
"What did Rutledge say?"
Brian Roberts on being told by Bill Gates in 1997, just before the Microsoft founder invested $1 billion in Comcast, that one day Internet customers would exceed video customers.
"I didn't know what he was talking about, but I was happy to take the $1 billion."
Tom Rutledge on the notion that FCC chairman Tom Wheeler isn't too enamored with cable's broadband success:
"What are you going to do? You're selling stuff and people are buying it. You should keep doing that."
The smarter way to stay on top of the multichannel video marketplace. Sign up below.
Thank you for signing up to Multichannel News. You will receive a verification email shortly.
There was a problem. Please refresh the page and try again.