15 Quotable Social Media Numbers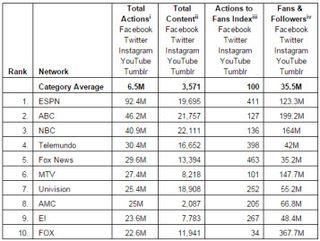 542.4 million
The number of social "actions" -- likes, shares, retweets, comments, reblogs and dislikes -- driven by TV networks and shows across Facebook, Twitter, Instagram, Tumblr and YouTube in October. Engagement for TV networks increased 7% month-to-month from September, boosted by a 35% uptick on Instagram and a 15% rise on Twitter.
92.4 million
The number of actions around ESPN, social media's most engaging TV network in October. Other cable networks in the Top 10 were Fox News, No. 5, with 29.6 million actions; MTV, No. 6, with 27.4 million; AMC, No. 8, with 25 million (driven by The Walking Dead, which premiered Oct. 8, pushing the network into the Top 10 for the first time); and E!, No. 9, with 23.6 million.
256%
Esquire Network's month-to-month social engagement gain in the TV Network category from September to October, driven by a viral video post for the show Car Matchmaker.
51.9 million
The number of actions generated by ESPN's Sports Center, TV's most socially engaging show in October. Rounding out the Top 5 were AMC's The Walking Dead (22.4 million actions), ABC's America's Funniest Home Videos (7.6 million), NBC's Today (7.1 million) and ABC's Good Morning America (5.7 million).
SOURCE: Social Scorecard for October, Shareablee, a social media benchmarking and audience analysis firm (Nov. 17, 2015)
The smarter way to stay on top of the multichannel video marketplace. Sign up below.
Thank you for signing up to Multichannel News. You will receive a verification email shortly.
There was a problem. Please refresh the page and try again.