Shining a Spotlight on the Latino TV Surge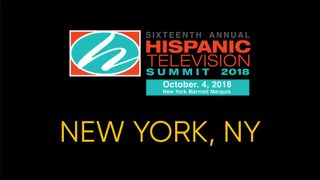 This Thursday (Oct. 4), the 16th annual Hispanic Television Summit will shine a light on the emerging Latino television market, the fastest growing and most profitable audience for today's television production, program distribution, promotion and advertising industries.
The 2018 summit, sponsored by B&C and Multichannel News and produced by Schramm Marketing Group, will offier insights on the Hispanic TV industry, including the latest trends in marketing, business strategy and emerging technologies, said Joe Schramm, the Hispanic TV Summit producer.
The event will feature a notable lineup of executives, including the conference's feature keynote speakers: Sandra Alfaro, managing director of Wing/Grey NY, and Michael Schwimmer, president and CEO of Fuse Media.
One of the main attractions of the Hispanic TV Summit is the annual luncheon and awards ceremony. This year the awardees include Cox Communications and Telemundo, as well as Lisa Torres, president of Publicis Media's Multicultural Practice, Cultural Quotient, and Jessica Rodriguez, president, chief operating officer and chief marketing officer at Univision Communications. (More extensive profiles of the honorees appear below.)
"Cox was one of the first MSOs to focus on the Hispanic market and to actually initiate Hispanic-specific acquisition campaigns and Telemundo has shown incredible growth in serving the Hispanic consumer through its coverage of the World Cup and Olympics," Schramm said. "On the individual side, Lisa Torres has been a big supporter of helping brands reach Hispanic consumers through Hispanic television for a long time; and Jessica Rodriguez represents a unique blend of executives within the industry and has made amazing strides coming up through the ranks of the company."
AWARD FOR CORPORATE LEADERSHIP IN HISPANIC TELEVISION AND VIDEO (SERVICE PROVIDER CATEGORY)
Honoree: Cox Communications
Cox has long been a cable TV industry leader in targeting Hispanics through its in-language acquisition and retention marketing campaigns. The cable operator, under the tutelage of president Pat Esser, has also aggressively recruited and retained Hispanic employees within its sales and marketing teams in an effort to reach and serve its diverse subscriber base.
"We think we are stronger by being more diverse and inclusive," Mark Greatrex, Cox's executive chief marketing and sales officer, said.
The company has also employed a strategy to get services into the Latino community through Cox Technology Centers, which offer opportunities for kids who don't have Internet services at home to access computers after school in an effort to complete their homework.
In addition, the network's Connect2Compete campaign provides high-speed internet service for as low as $10 a month to families on public assistance that have kids in school from kindergarten to high school.
Further, Cox was among the first cable TV providers to develop programming packages especially designed to serve the entertainment and information interests of Hispanic households.
"The general thought is, if you put it in Spanish that the Hispanic community will come," Luis Caballero, executive director of marketing and Hispanic strategy for Cox, said. "But the Hispanic community is so much more diverse, so whether the language is English or the language is Spanish, what we're trying to do is to get that connection culturally."
AWARD FOR EXECUTIVE LEADERSHIP IN HISPANIC TELEVISION AND VIDEO (MEDIA)
Honoree: Lisa Torres, President, Publicis Media's Multicultural Practice, Cultural Quotient
When it comes to multicultural TV marketing, Publicis Media's Lisa Torres is in a league of her own.
As president of Publicis Media's Multicultural Practice, Cultural Quotient, Torres leads a group of media companies that represent the largest percentage of media dollars committed to the Hispanic market annually.
In her work, Torres has thought outside of the proverbial box to create a modern, data-centric way to approach the multicultural marketing and advertising sector. As a result, Cultural Quotient is among the largest targeted, cultural digital investor across channels, including social, mobile and gaming.
"Lisa is a trusted partner, a strong negotiator, a visionary in her space, and she lives and breathes collaboration," Publicis Media Americas CEO Tim Jones said.
With more than 25 years of experience including serving as president of ZenithOptimedia Multicultural, Torres's success has been driven by her innate ability to conduct effective, custom research that has helped Publicis Media's clients better understand their diverse consumer segments, which helps push the marketplace forward with the latest data and insights.
Torres' influence also goes beyond the office. She leads Publicis Media's Multicultural Talent Pipeline, a program built to introduce college juniors and seniors to the opportunities within Publicis Groupe and the industry at large.
"Lisa strives to make true change industry-wide — not just within our walls — through her involvement in various diversity and inclusion initiatives, and in her recent work lobbying for a better Census 2020," Jones said. "Lisa brings a sense of humor and levity to all that she does."
AWARD FOR EXECUTIVE LEADERSHIP IN HISPANIC TELEVISION AND VIDEO (PROGRAMMER)
Honoree: Jessica Rodriguez, President, Chief Operating Officer & Chief Marketing Officer, Univision Networks
This past January, longtime Univision Networks executive Jessica Rodriguez was named COO and CMO, becoming the first woman to be promoted from inside to lead the day-to-day operations and marketing for the Spanish-language entertainment network juggernaut.
Along with her new duties, Rodriguez has also continued to successfully define and elevate Univision's marketing platform, as well as the marketing functions across the Univision Agency. Rodriguez is a key driver behind some of the company's most successful campaigns, including Se Habla USA, which promotes the value of diversity, inclusion and the important role Hispanic culture and the Spanish language play in the United States.
Additionally, she has played a key role in the continued collaboration between Univision and Netflix to co-produce and promote content, including drama series El Chapo, which recently finished a successful third and final season on Univision and will soon be available on Netflix.
"Jessica is a talented leader with a unique understanding of Hispanic consumers and what drives the business of TV," said Vince Sadusky, CEO of Univision. "She is highly respected inside and outside of the company, known widely for her passion and deep commitment to the people and brands of Univision and to our community. We recently concluded our 26th straight season as the leader in Hispanic TV and I have no doubt that we will continue that trajectory with leaders like Jessica on our team."
AWARD FOR CORPORATE LEADERSHIP IN HISPANIC TELEVISION AND VIDEO (PROGRAMMER)
Honoree: Telemundo Enterprises Telemundo is well-known for its entertainment programming, but in 2018 the Spanish-language network became the destination for sports fans looking for big-ticket live events.
In February, the network joined forces with NBCUniversal sibling NBC Sports Group to televise Spanish-language coverage of the 2018 Winter Olympics from PyeongChang, South Korea.
The network in June, alongside English-language rightsholder Fox Sports, covered the 2018 World Cup, after wresting rights to the tournament from rival Univision. Telemundo aired more than 500 hours of World Cup coverage from Russia. The network also acquired U.S. TV rights to the 2019 Copa America soccer tournament.
Overall, Telemundo in 2018 is on track to repeat as the most watched Spanish-language network in the weekday primetime period among adults 18-49 and 18-34.
"We are honored that Hispanics consistently choose Telemundo as their preferred choice for news, sports and entertainment," said Cesar Conde, Chairman NBCUniversal Telemundo Enterprises and NBCUniversal International Group. "We've listened to our viewers and created new and original content that delivers on their appetite for media across all platforms. Hispanic media consumption is no longer about habit, it's about choice, and Telemundo is now both the choice and voice of the Latino of today."
Thank you for signing up to Multichannel News. You will receive a verification email shortly.
There was a problem. Please refresh the page and try again.