Sen. Manchin Says FCC Mobility Map is Wrong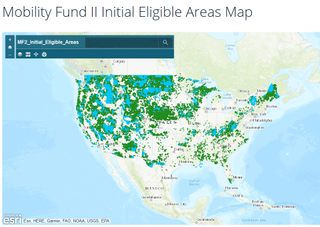 Sen. Joe Manchin (D- W. Va.) has challenged the FCC's Mobility Fund Phase II eligibility map. That is the map that shows areas eligible for Universal Service Fund broadband subsidy money.
Related: FCC Will Widen Mobility Map Challenge Window
Manchin pointed out Tuesday (Nov. 27) that he was the only member of Congress to formally challenge the map [a number did so informally] saying it overstates the availability of broadband coverage in his state. The more the map shows there is already service, the less area that is eligible for the government money--actually the money comes from service provider contributions passed on to their customers.
"West Virginia faces unique challenges when it comes to providing broadband access, and the first step to fixing that is making sure these maps accurately reflect coverage on the ground," he said. "This map determines who is eligible for a portion of the $4.5 billion that will be made available later this year, and I will continue fighting to ensure every community in West Virginia has the reliable, affordable broadband access they deserve."
Manchin sought a waiver of the challenge process back in May that allowed him to provide data to challenge the map. The FCC put out the broadband map in February 2018 showing areas eligible for Mobility Fund Phase II money over the next decade.
It was part of its move to redirect wireless carrier subsidies where private capital was already at work. The National Telecommunications & Information Administration launched the map seven years ago as part of its oversight of broadband stimulus money, but the FCC took it over in 2015 when that oversight expired.
At the time, the FCC's Wireline Competition Bureau called it the best publicly available picture of broadband coverage, thanks in part to FCC collaboration with commercial cloud-based vendors. FCC chair Ajit Pai at the time called it an incredible tool for policymakers--like Manchin--and Americans interested in the topic, and conceded that while it was a first step, it was "a pretty darn good first step." Manchin clearly did not agree: "The data I submitted yesterday proves what every West Virginian already knows to be true: There are too many areas throughout our state that still lack reliable broadband coverage."
"The Commission will be reviewing all of the submitted challenges, including those filed by Senator Manchin," said an FCC spokesperson.
The challenges comprise speed test data that were uploaded to the Universal Service Administrative Company (USAC) Challenge Portal. During the challenge process, the FCC released monthly public notices with snapshots of the data submitted each month. .
The smarter way to stay on top of the multichannel video marketplace. Sign up below.
Thank you for signing up to Multichannel News. You will receive a verification email shortly.
There was a problem. Please refresh the page and try again.