Sen. Hawley Keeps Hammer Down on Google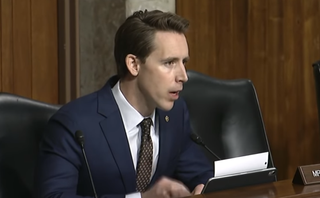 Freshman Senator Josh Hawley (R-Mo.) continues to press Google on its reluctance to continue working with the Defense Department on a military project while working with China on artificial intelligence, which Defense Department officials argue could help the Chinese military.
According to Hawley's office, he fired off a letter to Google CEO Sundar Pichai following a meeting between Google execs and President Trump--and Defense Department officials--over the issue Google's decision not to renew a contract with the Defense Department to use AI to improve military drones--some employees had argued working on the military project conflicted with Google's corporate values.
Related: Sen. Hawley Stakes Out, Stalks, Big Tech
When pressed by Hawley during a Hill hearing two weeks ago, chairman of the Joint Chiefs of Staff General Joseph Dunford agreed with Hawley that Google's relationship with China is problematic.
Sen. Hawley: Big Tech's Sweetheart Deal Must End
"I understand that today you have met with General Dunford and the President of the United States to address these concerns," Hawley wrote Pichai. "Now meet with the American people by addressing publicly the work your company does in China, the benefits it may provide to the Chinese government and military, and your reluctance to partner or aid the Armed Forces of the United States."
The smarter way to stay on top of the multichannel video marketplace. Sign up below.
Thank you for signing up to Multichannel News. You will receive a verification email shortly.
There was a problem. Please refresh the page and try again.