TIS18: Innovation, Reliability, Connectivity Drive Broadband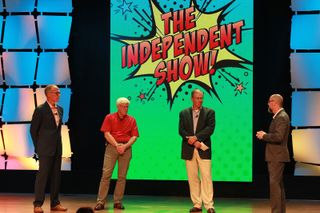 Anaheim – With broadband speeds doubling every two years, operators need to focus on innovation, network reliability and connectivity to drive results, a panel of experts said at a Monday (July 31) panel session at The Independent Show here.
Read More: MCN's Coverage of The Independent Show
CableLabs chief operating officer Chris Lammers noted that according to Nielsen's Law, high-end users' bandwidth needs will grow by 50% every two years. With that in mind, Lammers said ultimate speeds will rise from 1 Gigabit per second in 2016-17, to 10 Gbps by 2023 and 100 Gbps by 2029.
ShenTel senior vice president, cable Tom Whitaker said operators need to make sure their networks are up to snuff to deliver higher and to know who their completion really is. While 5G wireless is getting a lot of press, in many cases the technology isn't economically feasible for small communities.
Whitaker pointed to a Verizon Communications 5G deployment in Houston that cost the telco about $15.50 per covered POP. In a smaller market, like Lexington, Va., 5G could cost $55 per covered POP.
"Maybe 4G is a better option, a better long-term solution for many wireless networks in most of the small towns where we do business. So, I wouldn't get all jacked up about 5G unless it's in a bigger town," Whitaker said.
Deploying fiber also has a halo effect on the entire company, said TDS Telecom director of product management and development Scott Schultz. While TDS does better in areas where it has deployed fiber, the halo the network gets from offering the service extends to areas it hasn't upgraded yet. Take rates for copper-based services increased about 9% in neighborhoods that haven't gotten the full fiber treatment yet, Schultz said.
"Even when you don't have fiber to add, it works," Schultz said.
The smarter way to stay on top of the multichannel video marketplace. Sign up below.