Pai Warns of SHAKEN/STIR Mandate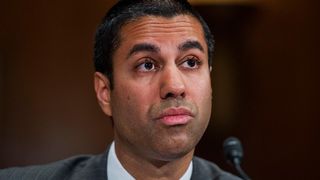 FCC chair Ajit Pai is looking to shake up carriers who have pledged to implement the SHAKEN/STIR caller ID authentication framework, one of the weapons in the arsenal against unwanted robocalls. 
Related: Pai Proposes Default Robocall Blocking 
Pai has said from the outset that he expected them to voluntarily implement the technology by year's end, and Pai said in a speech this week that he is generally pleased with the progress. But he signaled a deadline is a deadline.  
"I'm grateful for the efforts carriers have made to date, and I saw that just this morning, T-Mobile, Comcast, and Inteliquent announced the completion of the first end-to-end SHAKEN/STIR call verification," he said. But there was a "but." 
"The reality is that we are only seven weeks away from the end-of-the-year deadline, and we are not yet seeing sufficient implementation by all major voice providers." 
Pai warned that FCC staffers were working on regulations to make the adoption mandatory, and they would be ready early next year if the deadline was not met. "If industry doesn't get the job done on time, I will not hesitate to call an FCC vote on these new rules," he said. 
He also pointed out that all 50 state attorneys general had signed a pact with a dozen telecoms with SHAKEN/STIR at the heart of that agreement so there were lots more eyes watching. 
Signing on to that pledge were Comcast, Charter, AT&T, Bandwidth, CenturyLink, Consolidated, Frontier, Sprint, T-Mobile, US Cellular, Verizon, and Windstream. 
Cable ops have argued that a SHAKEN/STIR mandate is not necessary, saying that "requiring a company to implement SHAKEN/STIR before it is economically and technologically feasible for that company will only lead to ineffective and inefficient actions." 
The smarter way to stay on top of the multichannel video marketplace. Sign up below.
Thank you for signing up to Multichannel News. You will receive a verification email shortly.
There was a problem. Please refresh the page and try again.