OTT Summit: Philo COO Says vMVPD's Growth is Accelerating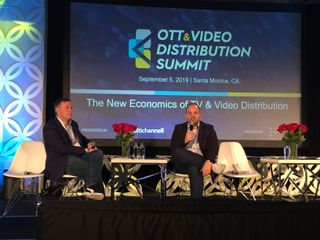 The media-veteran chief operating officer of virtual pay-TV provider Philo said Thursday his company's $20 bundle of 58 streamed channels of entertainment programming is averaging more than four hours per day of viewing by subscribers and seeing "accelerating" growth overall.
Mike Keyserling (pictured, right), previously of HBO and Tandberg, told moderator Tim Hanlon (left) that Philo is realizing the potential of a sports-free bundle that attracted investors including programmers such as AMC Networks, Discovery and Viacom.
He didn't disclose specific subscriber figures for the circa 2017 service. But he said, in opening the OTT & Video Distribution Summit, that privately owned Philo is "coming off by far the best month in our company's history."
"There's been a lot documented recently about how the MVPDs are taking a pause or even reducing their size. We're just not seeing that dynamic at all," he said at the Loews Santa Monica Beach Hotel conference, put on by MCN parent Future plc. "We grew by 30% in the last eight weeks and we're really at the most accelerating growth in our company's history."
Granted, it's a short history, and Keyserling said it was energizing to be at a 65-employee size company at this dynamic time in TV. He said Philo was not obliged to tilt marketing toward its investor programmer partners but that those investors believe they will grow along with Philo.
Also From OTT Summit: Ellation Exec Says Niche OTT Platforms Must Diversify
Philo offers 58 live channels and a cloud-based DVR along with on-demand programming, and the lineup includes digital entities such as Cheddar, Tastemade TV and PeopleTV, Keyserling noted. "We feel a little bit akin to those [diginet] companies being a small company and a scrappy company ourselves," he said.
He said ad-supported VOD networks have a place in the market, but as a $20 service "we really want to make sure that we're keeping that premium feel into all the content we offer."
Asked how he sees the pay subscription VOD market shaking out, with launches of Disney+ and HBO Max ahead, among others, Keyserling said bundled channel packages have always made sense and if consumers weren't getting charged $150 for them there would be less cord cutting. At some point consumers will look for the least expensive way to get the content they want, he said.
"I don't believe the future of TV is going to be 20 apps where you have to remember 20 passwords and figure out where the content you want to watch is," he said.
The smarter way to stay on top of the multichannel video marketplace. Sign up below.
Kent has been a journalist, writer and editor at Multichannel News since 1994 and with Broadcasting+Cable since 2010. He is a good point of contact for anything editorial at the publications and for Nexttv.com. Before joining Multichannel News he had been a newspaper reporter with publications including The Washington Times, The Poughkeepsie (N.Y.) Journal and North County News.