Fubo Launches New Sports Network on Samsung and LG Smart TVs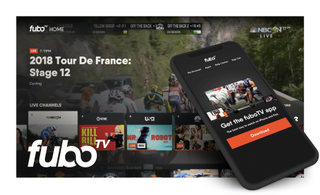 FuboTV's new 24-hour sports channel, Fubo Sports Network, will now be available on Samsung and LG smart TVs.
The fledgling sports channel will be available within the the Samsung TV Plus and LG Channels OTT ecosystems starting today. According to Statisa, market leader Samsung and LG controlled half of the U.S. smart TV market in 2018.
Last month, start-up FuboTV soft-launched Fubo Sports Network, a digital channel that it hopes will some day become a full-fledged, 24-hour network devoted to event coverage and studio analysis, similar to how Cheddar, recently acquired by Altice USA, gestated around financial news.
But until today, the channel has only been available in the basic tier of virtual pay TV service, FuboTV, as well as AVOD platform Xumo.
Related: FuboTV Seeks to Follow Cheddar Playbook with Sports Network Launch
"It's still early days for Fubo Sports Network, and I'm pleased partners like Samsung and Xumo are embracing the power of the network to reach sports fans," said David Gandler, co-founder and CEO, fuboTV. "Our goals for fubo Sports Network are ambitious yet simple: We plan to deliver sports programming 24/7 that's a bit edgy, always fun and with a clear point of view, and make it free to sports fans on multiple platforms and on every device."
FuboTV said 90% of viewing of its vMVPD platform occurred on connected TVs in the second quarter.
The company said "talent-driven" original programming will debut on Fubo Sports Network "in the coming weeks."
"We're thrilled to expand the reach of fubo Sports Network to LG Channels powered by Xumo and Samsung TV Plus so quickly after our soft launch just a few weeks ago," said Min Kim, vice president, business development, fuboTV. "24/7 live networks are a natural fit on smart TVs and, with our viewers wanting sports content nonstop, we're excited to bring the fubo Sports Network free to consumers on two of the largest smart TV platforms."
The smarter way to stay on top of the multichannel video marketplace. Sign up below.
Thank you for signing up to Multichannel News. You will receive a verification email shortly.
There was a problem. Please refresh the page and try again.