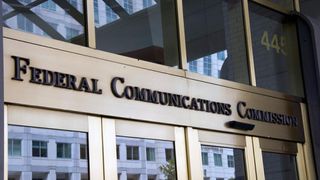 The FCC has signaled the next spectrum band it is seriously eyeing to free up for advanced telecom.
The Wireless Telecommunications, International, Public Safety and Homeland Security bureaus said Thursday (April 19) that it was instituting a temporary freeze on applications for new or modified fixed satellite service earth stations and fixed microwave stations in the 3.7-4.2 GHz spectrum bands (C-band) to "preserve the current landscape" as it looks into possibly allowing mobile broadband and more "intensive" fixed use.
The fact that the public notice was issued by four different bureaus suggests the band's future is clearly in play. The freeze also will prevent speculators from trying to get in under the wire if the band is indeed opened up.
But in a nod to cable operators who use the band for thousands of receive-only earth stations, has also opened a 90-day window where for current users of earth stations to file or register or license those or modify their current registration or license. That will also give the FCC a better idea of who is in the band, and where as it explores opening it up to others. The notice suggests it may require "require all licenses [and] registrants … to file a certification that the earth station was operational as of the start of the freeze and remains operational at the time of the certification along with additional technical details regarding their operations to inform the Commission's resolution of issues raised in the inquiry."
The FCC freeze follows its Aug. 3, 2017, Notice of Inquiry on Expanding Flexible Use in Mid-Band Spectrum Between 3.7 and 24 GHz.
ACA was pleased with that window.
"ACA thanks the Bureaus for taking into account concerns raised by ACA that the cost of registering the thousands of earth stations operated by ACA members - upwards of $1,200
per station - is prohibitively expensive, particularly for the smallest providers, and unnecessary as a practical matter," said American Cable Association Matt Polka. "By providing a window in which multichannel video programming distributors (MVPDs) can register their earth stations without submitting an expensive spectrum coordination report, the FCC has lowered the cost of registration by roughly $700 or 60%. Today's action also greatly reduces the complexity of the process.
"As ACA previously explained to the FCC, this relief will motivate its members to register their stations for the first time, which will ultimately help the FCC understand where and how the C-Band is currently used, and how the band can best be made available for other uses," said Polka.
The smarter way to stay on top of the multichannel video marketplace. Sign up below.
Thank you for signing up to Multichannel News. You will receive a verification email shortly.
There was a problem. Please refresh the page and try again.