DirecTV Adds AccuWeather, Drops WeatherNation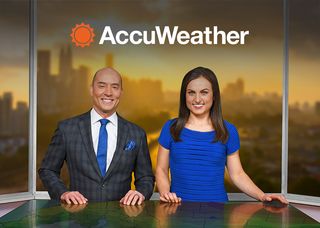 AT&T-owned DirecTV, the top U.S. pay-TV service (rankings), today dropped weather-centric WeatherNation and installed rival AccuWeather Network in its place.
WeatherNation had forecasted the drop on Monday, issuing a release about the upcoming drop from DirecTV and the DirecTV Now streaming service.
The official statement from DirecTV and AccuWeather was: "AccuWeather Network will be available on DIRECTV (Channel 361) starting Aug. 1. AccuWeather Network's experienced team of meteorologists and weather broadcasters, both in the studio and in the field, provide weather forecasts with Superior Accuracy, plus compelling weather news and content 24 x 7."
WeatherNation, on DirecTV since 2014, was dismayed. "Ever since DIRECTV posted publicly that they would no longer carry WeatherNation as of Aug. 1, we've been bombarded by viewers expressing their frustration and asking us why?," WeatherNation president Michael Norton said in the statement. "I wish we could give them an answer, but we're just as shocked and dismayed as they are. It's an unfortunate decision by DIRECTV, especially given overwhelming customer engagement and the fact that they offered no terms by which they would continue carrying the service."
AccuWeather, meanwhile, launched today on channel 361, which had been WeatherNation's slot. Accuweather is also carried on Frontier and on Fios, which added it when Fios dropped The Weather Channel in 2015. Accuweather is not on DirecTV Now yet but is expected to be added soon.
WeatherNation's run on DirecTV goes back to the time in 2014 when, as "TV Answer Man" Phillip Swann noted, the satellite-TV provider had opted to drop TWC for a few months. The Weather Channel is long since back on DirecTV (opens in new tab).
Kent has been a journalist, writer and editor at Multichannel News since 1994 and with Broadcasting+Cable since 2010. He is a good point of contact for anything editorial at the publications and for Nexttv.com. Before joining Multichannel News he had been a newspaper reporter with publications including The Washington Times, The Poughkeepsie (N.Y.) Journal and North County News.
The smarter way to stay on top of the multichannel video marketplace. Sign up below.
Thank you for signing up to Multichannel News. You will receive a verification email shortly.
There was a problem. Please refresh the page and try again.