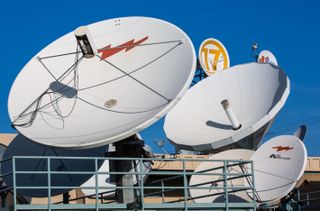 Stakeholders were quick to react Monday (Nov. 19) after FCC chair Ajit Pai proposed an FCC auction of 280 MHz of C-Band Spectrum.
"We applaud the FCC's decision to use a public auction to allocate this valuable national spectrum resource as this tested, transparent and market-based approach will enable new entrants to be successful, ensure widespread deployment of 5G including to rural areas, and contribute billions of dollars to the U.S. Treasury," said Charter, which had backed the public auction option.
ACA Connects had also pushed that option, and joined Charter in the sound of more than one hand clapping.
"We applaud Chairman Pai for his decision to repurpose C-band spectrum through a public auction as ACA Connects, Charter and CCA proposed in our 5G Plus Plan," said ACA Connects president Matthew Polka. "We look forward to working with the FCC chairman and his fellow commissioners on the details of an auction and on a transition plan that allocates necessary funds to accommodate incumbent users and gives cable earth station operators, including in rural America, the flexibility to transition to fiber-based solutions."
Related: Hill Leans Toward Public Auction of C-Band
FCC officials were not commenting on the details of the proposal, including how the FCC would compensate incumbent C-band users--cable operators and broadcasters among them--for their move to tighter spectrum quarters, something broadcasters know well after their broadcast incentive auction.
"I'm glad that FCC chairman Pai agrees that a private sale of the C-Band – with the lion's share of potentially $60 billion in proceeds going to a few foreign companies – is a terrible idea," said Rep. Mike Doyle (D-Pa.), chairman of the House Communications Subcommittee, but he still pushed for legislation to mandate a public auction.
"I introduced the bipartisan C-BAND Act – along with my colleagues Subcommittee vice chair Doris Matsui (CA-6), Congressman Bill Johnson (OH-6), and Congressman Greg Gianforte (MT At-large) – which would authorize the FCC to conduct a public auction of the C-Band," said Doyle. "Now it's critical that Congress move quickly on passing this legislation so that we can use the proceeds of this auction to fund broadband build-out, Next Generation 911, and closing the digital divide."
"No doubt the C-Band proceeding is a complicated one, with policy and legal uncertainties all around," said Free State Foundation president Randolph Mays. FCC officials said as much Monday in a background call with reporters. "That said, I remain convinced that some form of private auction secondary market transaction would most likely enhance overall consumer welfare and advance the U.S.'s goal of achieving 5G leadership. In large part this is because it is likely to be a speedier way of making more C-Band spectrum available. It would also be a useful precedent for achieving a more free market-oriented spectrum policy going forward."
"We support the approach outlined by chairman Pai today and we look forward to working with the Commission to help unleash this important spectrum for 5G," said AT&T executive vice president Joan Marsh.
"The C-Band represents an important 5G opportunity for the U.S., but to unlock its potential a series of objectives must be met," she added. "As we have previously said, any path forward must chart a course toward a fair, open and transparent auction; compensation to C-Band licensees for relinquishing rights and relocating services; proceeds for the U.S. Treasury; and a clear and reasonable transition plan that ensures broadcasters, programmers and earth station operators that their services will not be interrupted and that their relocation costs will be reimbursed."
"Our Public interest Spectrum Coalition has argued from the start that only a public auction is permitted by the Communications Act and avoids the dangerous precedent of paying incumbents a massive windfall for spectrum they do not own and never paid for," said New American in a statement. "There is ample FCC and court precedent for a public auction that requires winning bidders to pay transition costs and also allows them to negotiate incentive payments to incumbents to clear all or part of the band more quickly than required. In the meantime we will be urging Congress to pass legislation that designates the net revenue to close the broadband gap in rural and other underserved areas."
"Spectrum auctions, when appropriately structured, are the fairest way to manage the resource," said Adonis Hoffman of Business in the Public Interest and a former top FCC staffer. "Once the FCC and Congress realized the immense upside to the treasury, there really was no other option.
"We all remember the $49 billion sale of AWS 3 spectrum a few years ago that was only expected to yield $25 or $30 billion at most. That was a game changer in my opinion."
"The Chairman's statement and his guiding principles for the auction are good news for the fixed wireless industry and rural Americans," said Louis Peraertz, VP of policy for the Wireless Internet Service Providers Association. "One of the services currently using the C-Band is point-to-point fixed wireless services. With the announcement, WISPA believes it leaves open the possibility that with a few technical rule changes, the FCC could easily and quickly permit new coordinated point-to-multi-point uses, both protecting the delivery of programming and expeditiously bridging digital divides in rural areas."
Contributing editor John Eggerton has been an editor and/or writer on media regulation, legislation and policy for over four decades, including covering the FCC, FTC, Congress, the major media trade associations, and the federal courts. In addition to Multichannel News and Broadcasting + Cable, his work has appeared in Radio World, TV Technology, TV Fax, This Week in Consumer Electronics, Variety and the Encyclopedia Britannica.
Thank you for signing up to Multichannel News. You will receive a verification email shortly.
There was a problem. Please refresh the page and try again.