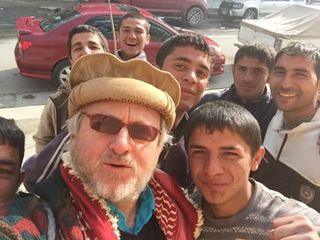 I'm sitting cross-legged in the Wazir Akbar Khan mosque with Afghanistan's leading Islamic scholar, a rock-star imam who has agreed to debate religion and politics with this American Jew. He concludes I should convert and move to Kabul. I ask if he'll set me up with a nice Afghan girl.
I've spent my career branding, marketing and packaging other people's content. I figured it's time to create my own. I ran into New York Times Co. president Mark Thompson last month, and he said two things: The ecosystem for publishing has collapsed, but the opportunities for creating new, independent forms are unprecedented.
I'm an old cable guy. I cut my teeth as Brian Lamb's first marketing director at C-SPAN, had a lengthy run as an MSO marketer and started two Web content companies: FORA.tv, a thought-leader event platform, and ShowGo.tv, a live streaming jazz-concert network.
The idea for War: The Afterparty came to me on Aug. 4, 2014, my 59th birthday and also the 50th anniversary of the Gulf of Tonkin incident — the phantom attack that
never happened, but launched the Vietnam War. Also in the news that day, our foray into Iraq resulted in jihadis controlling large swaths of that country. Then it hit me: We've been at war virtually my entire life.
In business, we do audits to ask certain questions of big, expensive projects. Was the mission accomplished? Were the benefits worth the costs? Was management competent and truthful? So, I launched a Kickstarter campaign,its most popular print journalism project at the time, and raised enough money to travel the world to the scenes of U.S. interventions. It was sort of a taxpayer audit, asking questions of people on the other end of the gun barrel. You know, like Ed Koch used to ask, "How'm I doing?"
I'm midway through the project. I've interviewed ex-presidents, newspaper editors, congressmen, guerrillas, teachers, regular Joes who watched bombs fall over Belgrade, Managua or Panama City. I spent three hours with a Panamanian air force officer instructed by a henchman for Gen. Manuel Noriega to shoot anyone who tried to desert as American forces approached. Instead, he stationed a sniper fifty yards outside the base with orders to shoot the schmuck if he tried to stop anyone.
In my month in Afghanistan, I talked to an Afghan Army colonel, a school founder and a hospital CEO who risked their lives so their daughters could go to university
and be anything they damn well chose to be.
It's a Brave New World for aging white guys forced to reinvent themselves. But I do have some advantages. Two grown daughters who support any wild idea I decide to chase down. Hundreds of old cable pals like Lou Borrelli, Steve Villano, Patrick Wilson and Joe Camicia, who cheerlead, and more. The thousands of little tricks and bits of insight that I picked up along the way in one fabulous industry. That allowed the son of a New York City taxi drive to carve out a professional life doing whatever the hell he damn well pleased.
For more information on the project, go to www.WarTheAfterparty.com, or write the author at brian.k.gruber@gmail.com. The world tour ends in February, and the book is set for publication this summer.
The smarter way to stay on top of the multichannel video marketplace. Sign up below.