Viewers Elect to Watch Cable News Nets for Political Coverage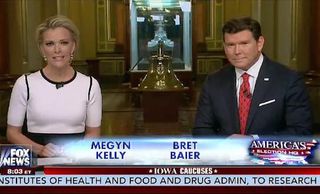 With all due respect to Ted Cruz, Donald Trump, Marco Rubio, Hillary Clinton and Bernie Sanders, the biggest winners at Monday night's Iowa caucus were the cable news networks.
With viewer interest in this year's presidential political campaign at unprecedented levels, its not surprising that Fox News, CNN and MSNBC drew big numbers for their coverage of the political primary season's first voting night.
Fox News and CNN can fight over whose caucus coverage won over the biggest audeince – Fox News drew 4.3 million viewers during the 8 p.m. to midnight time period to top all news nets, while CNN reached a cable news network high 1.4 million viewers in the adult 25-54 category – but the fact is that coverage from all three networks easily bested their respective primetime audience averages.
The high ratings performances continues the trend begun last fall with the Republican Presidential debate telecasts notching record audiences for Fox News and CNN, as well as Fox Business Network and CNBC.
With the New Hampshire primaries a week away and primaries in Nevada and South Carolina later this month, look for viewers to continue to vote for the cable news networks as the primary outlets for their political fix.
The smarter way to stay on top of the multichannel video marketplace. Sign up below.
Thank you for signing up to Multichannel News. You will receive a verification email shortly.
There was a problem. Please refresh the page and try again.