The Masters and 4K: A Tipping Point or Just a Cool One-Off Event?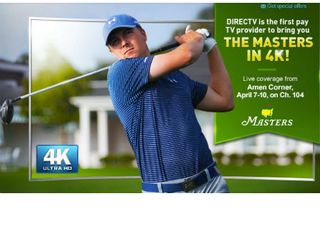 Stunning color. Leaves rustling in the wind. An image so clear that you can see the dimples on the ball. That was the Masters in 4K, the first U.S. broadcast of content in Ultra High Definition (UHD).
Working in conjunction with CBS, DirecTV's 4K broadcast was available on their new 4K channel or through the Internet via an app on supported Smart TVs. For DirecTV customers, all that was needed was the latest Genie HD DVR set-top box, a subscription to the Ultimate or Premier channel package, and some popcorn. If you weren't a DirecTV subscriber but had a supporting 4K TV (Samsung or Sony), you could install the app and watch all the 4K glory of the Amen Corner…so long as you had a 25mbps or greater downstream connection.
What was more phenomenal than the picture, though, is how the production crew brought the ultra high-definition feed to end-consumers. It didn't require re-inventing workflows. It didn't require new ways to accomplish broadcast tasks. CBS and DirecTV required two things—new equipment and more bandwidth.
When it comes to broadcasting a live feed, there's a lot of equipment involved - cameras, routers, encoders. For traditional HD and SD delivery, this equipment is baked. The standards are well established both for production and consumption. But for 4K? Not so much. Not only did CBS need new cameras, they needed a truck that could handle the increased resolution provided by those cameras. In fact, it was four times as much—cabling, throughput, and bandwidth.
To tackle this challenge, CBS and DirecTV worked with Mobile TV Group out of Denver, Colo. Their broadcast truck, Flex 39, featured twelve Sony HDC4300L 2/3 inch 4K Ultra High-Definition super slo-mo cameras with High Dynamic Range and 4K lenses. Not only was the truck outfitted with all the required 4K-compliant equipment from the broadcast ecosystem (routers, cables, etc.), it was, more importantly, integrated by the Mobile TV Group team so that it worked seamlessly together.
"That's the real challenge here," says Nick Garvin, Director of Business Development at the Mobile TV Group, "making it all work together. Every piece of 4K gear touches every other piece of gear in the market. But they don't all speak to one another. Our job was to orchestrate it all to work together, to package it into a new standard for 4K delivery."
Making it all work together included integrating with DirecTV's 4K end-to-end delivery workflow (the only broadcaster to really have one). With an on-truck encoder, DirecTV took the final, uncompressed signal, and encoded it for distribution to their set-top boxes via satellite uplink and over the Internet via dedicated fiber.
In many ways, the complexity of broadcasting in 4K was simplified by the Flex 39 truck. What might have been a Herculean task of provisioning, integrating, and ultimately operating a host of new 4K equipment became just "plug-and-play" assisted by a few dedicated Mobile TV Group engineers whose sole job was to keep everything running smoothly. And what made the truck more valuable was that it was multipurpose, capable of handling and delivering UHD, HD, and SD feeds.
But it wasn't just new equipment that CBS and DirecTV needed. The 4K feed required significant bandwidth both for the linear, satellite broadcast as well as the Internet transmissions. Thankfully, as a satellite broadcaster, DirecTV had the former handled. In fact, they had deployed a new satellite in 2014 just to facilitate the delivery of 4K content. For Internet streaming, the DirecTV encoder on the Flex 39 truck had a dedicated fiber link that was sending the compressed, encoded content back to a control center where it could be distributed to CDNs for delivery.
Despite the relative ease at which CBS and DirecTV implemented a 4K broadcast using an out-of-the-box solution, what does this kind of event signify for consumers? Will more and more events "go 4K" over the coming months until everything is broadcast in UHD?
Unfortunately, there's no easy answer to that question. Sure, it's clear that more consumers will have smart, 4K-ready TVs. In fact, according to research firm Strategy Analytics, 50% of U.S. homes will have one by 2020. But consumers will need other 4K-compliant hardware—HDMI 2.0 cables, HEVC enabled set-top boxes, HDCP 2.2 receivers – just to name a few. They will need to upgrade their entire video ecosystem just to watch 4K.
And what about bandwidth? It's probably safe to say that very few events will be broadcast in 4K, even if trucks like those provided by Mobile TV Group are used, because very few consumers will have upgraded set-top boxes. As such, it will be much easier for broadcasters to distribute UHD content over the Internet.
Unfortunately, according to the Pew Research Center, there's an unsettling trend—consumers are swapping out fixed-line broadband for mobile broadband. Overall, about 67% of U.S. homes have broadband connectivity, down from 70% in 2013 while those that connect to the Net using only smartphones was at 13% in 2015, up from 8% in 2013. Which is a problem, considering that Internet speeds of 15 Mbps or higher is a threshold many consider the minimum necessary to effectively stream 4K video (although DirecTV was requiring 25 Mbps for Internet delivery of the Masters) and current mobile broadband speeds, at least in the U.S., are far from that number.
Still, this event was a watershed moment for U.S. broadcasting—the first delivery of 4K content delivered simultaneously to televisions and over the Internet. CBS and DirecTV showed that it can be done. You can bet that other broadcasters took notice. But was it a 4K tipping point or just a demonstration of a future some years away? The ball isn't rolling downhill just yet.
People are going to need the TVs and other equipment to watch 4K content, along with the necessary bandwidth. More broadcasters are either going to have to undertake the arduous task of upgrading their existing trucks to support 4K or use "trucks-as-a-service" providers like the Mobile TV Group.
So while we aren't at a tipping point just yet, we are getting closer. It's just a matter of time. With events like The Masters, providers like Vudu and Netflix, and broadcasters like DirecTV all pushing 4K content, there's no doubt that we are inching closer to a future of UHD that, although some distance off in the horizon –perhaps 10 years or so, in my opinion—is none-the-less clearly there.
Jason Thibeault is a Senior Director, Content Marketing atLimelight Networks, a leading global delivery network and founding member of the Streaming Video Alliance.
The smarter way to stay on top of the multichannel video marketplace. Sign up below.